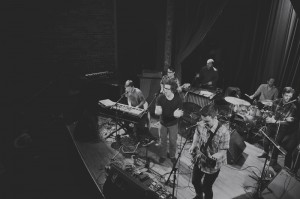 For those of you who missed Pickwick's single-release show Friday, December 17, shame on you. Pickwick, as well as Fly Moon Royalty and Thaddillac, enthusiastically played to a nearly sold-out audience at the Columbia City Theatre. I can honestly say that it was one of the best live shows that I have ever attended. On some levels, you would have never known you were about to witness a borderline brilliant performance from a remarkably driven and layered group. Hats off to Pickwick for an entertaining, ebullient and energetic set.
The show was set to coincide with the release of Pickwick's second out of five total singles, which will all be released from Pickwick's first album. "Designed to be a concept record, the lyrics of each song connect to conspiracies, tragedies or myths surrounding the personal lives of various performers," says Pickwick.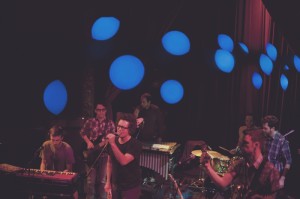 Despite starting late and a decent, but not particularity memorable opening act, Pickwick performed a stylistically succinct set. Performed in the following order, the set list included; Walking With Your Man, When Rosa Speaks, The Round, Blackout, Untitled (New Song), Staged Names, Curtain Call, Hacienda Motel, and Call & Response. None of these songs failed to deliver.
Normally, my main issue with seeing local bands play in small venues is that they all tend to sound the same. Not only does every local band have a similar sound, but every single one of the songs also sounds the same. It is extremely difficult to truly enjoy an up and coming band if their original music is not discernable or auditorily fresh. Thankfully, Pickwick breaks that stereotypical mold.
Sound wise, it's almost impossible to force Pickwick into one particular genre. Their music is a collection of inspirations form soul, r&b, pop, rock and indie styles of music. The show had a soul/hippie/r&b vibe reminiscent of the 1960's. Ironically enough, lead singer Galen Disston had one of the biggest, fluffiest afros that I have ever seen on a white guy. The vibrant fashion choices of the band helped to enhance this funky, chill vibe.
Despite the conglomeration of genres, Pickwick did indeed come across as musically focused and minimalistic. The simplistic and memorable style is akin to the sounds of Cold War Kids, Spoon, and The Walkmen, bands from which Pickwick draws inspiration. As a modern indie outfit, the band has clearly learned that less is often more. They sounded sharp, experienced and completely on point. If there were any mistakes made during the show, they were certainly not noticed. It was wonderful to see and hear a band with such a clear voice and minimalistic production; something that is fairly rare in today's musical landscape. Pickwick has a promising career ahead of them if they continue to produce quality music and entertaining live performances.
– Chris Heide
Tags: Columbia City Theatre, Pickwick