Review: The Best Christmas Pageant Ever by Barbara Robinson and Jacob Marley's Christmas Carol by Tom Mula at Seattle Public Theatre at The Bathhouse at Green Lake now through December 24. Reviewed by Chris Heide.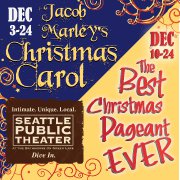 Plays, movies and television shows about the meaning of Christmas often come across as trite, unrealistic and completely anvicillious. Going into the Seattle Public Theater's 10th anniversary production of The Best Christmas Pageant Ever, I had low expectations of the predominantly adolescent cast. However, instead of being tortured by what could have been an awful high school play, I found myself enjoying the sentimental story. Kudos to SPT for putting on a production that was both heartwarming and genuinely funny.
The Best Christmas Pageant Ever focuses on the Herdmans, a family of unwashed, boorish juvenile delinquents and their desire to participate in the churches annual Christmas Pageant. As a result, a bunch of wacky hijinks occur, which causes everyone else to question the true meaning of Christmas. As rehearsals for the play-within-a-play commence, the Herdmans question the logic of the story of Christmas, which of course results in a series of wacky misunderstandings. For instance, the Herdmans children assume that Mary got knocked up by another guy, as a result of her cheating on Joseph. Were the jokes and hijinks blatantly obvious? Yes. Could I see them coming a mile away? Absolutely. Did I care? Not at all.
In the end, the Herdman kids end up discovering the true meaning of Christmas. Truth be told, I like I was watching a Christmas edition of High School Musical. The jokes and plot were so very transparent, yet somehow, those potential negatives didn't matter. Credit is due to the actors who made the material drip with nuance and life. Abby Tadlock, Max Harris and Heidi Bove all gave appropriately hilarious performances.
In particular, Cori Jacoby and Peter Durning, who played Imogene/Mary and Ralph/Joseph respectively, gave tremendous performances. As the heads of the Herdman family, both Imogene and Ralph both brilliantly questioned the story and logic behind Christmas. However, during the performance of the play-within-a-play, both Imogene come to realize the true meaning of Christmas. Both Imogene and Ralph, as Mary and Joseph, silently recreate the scene of Jesus' birth in a manger while the rest of the cast narrates the story.
Despite having no lines during the most pivotal scene of the entire play, I could not help but keep my eyes on Jacoby and Durning. Both actors beautifully played the scene. Without uttering a single word, I was able to see a complete emotional transformation within their respective characters as the true meaning of Christmas dawned on them. Frankly, this scene could have been completely cheesy, but the effects of the actor's reeling in their character's insane antics made this moment feel entirely real and palpable. During this apropos climax, the entire audience was silent.
Overall, The Best Christmas Pageant Ever was a roaring success. While this production was not filled with professional actors and realistic dialogue, the entire cast managed to make this production relatable, meaningful and just a little bit gleeful all at the same time.
————————————————————————————————————————————–
Also playing at The Seattle Public Theatre this holiday season is their production of Jacob Marley's Christmas Carol which puts a new twist on Dickens' classic tale of redemption. Having already seen A Christmas Carol over a dozen times, it was a pleasant experience to watch this new interpretation. In this irreverent, charming and surprisingly endearing production, Jacob Marley is given 24 hours to redeem Scrooge in order to secure freedom from his own moral chains. Staged on a sparsely decorated set, this play manages to both provoke both laughter and tears out of its audience.
Interestingly enough, despite containing a plethora of bit characters, Jacob Marley's Christmas Carol was staged using only four actors. Starring James Lapan as Marley, Vincent Delaney as Scrooge, Patrick Lennon as Bogle and Alyssa Keene as the Record Keeper, this production evoked the impressive dramatic and comedic depth of its actors. A majority of the production involved the characters reciting what sounded like stage directions or narrative descriptions, all to the audience. This could have been a tedious exercise; instead it served to highlight the talents of the performers. All of the actors were strong in their own right, but Lennon managed to steal the show away from both Lapan and Delaney.
Lennon's performance as Bogle, a sprit who guides Marley on his own path of redemption was nothing short of spectacular. Displaying a tremendous range, Lennon was both laugh-out-loud funny and endearingly heartwarming. He stole every single scene he was in. This is not to say that the other actors were not good; they all made wonderful contributions to the production. Lennon, however, displayed greater depth and range, making his performance incredibly visual and palpable. He is a talent to watch.
In fact, I almost loved this "version" of A Christmas Carol more than the original. This is by far a more humorous, intelligent and witty behind-the-scenes look of a classic tale. The production itself was originally produced in the 80's and therefore is just over two decades old. Apropos of modern times, the play relies heavily on themes of redemption while capitalizing on the current reality TV trend. I'm not saying that this production or its source material is at all trashy or sensational. Rather, it capitalizes on the innate human desire to relate to others and our habit of forcing ourselves to confront our moral deficits. In the end, the play is both humorously over-the-top and thematically nuanced. Not once did I find the production to be anvilicious with its themes of redemption. Instead it was simply illuminated in a new light.
Jacob Marley's Christmas Carol is a wonderfully produced eighty minutes of theatrical enjoyment. For those looking for a new twist on an old classic, this is definitely the production for you.
– Chris Heide
Tags: Seattle Public Theatre