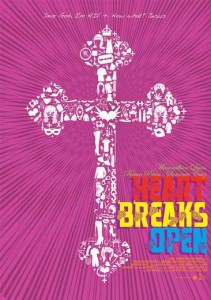 A fundraiser to benefit the locally made queer film, Heart Breaks Open is happening this Sunday, March 6 at TWO Seattle venues. Part one, which includes a screening of the film, will happen at Julia's on Broadway, then the second half of the event moves a half block away to The Broadway Grill for a dinner, meet & greet with the cast and crew, and a raffle. The event starts at 6pm and ticket packages are available at Brown Paper Tickets and start at $60 for the Fan Club Level.
Heart Breaks Open is a labor of love for the filmmakers; Basil Shadid, Billie Rain, John Boucher and many others, as well as for its cast which includes Maximillian Davis as Jesus, Samonte Cruz as Johnny and Brian Peters, aka, Sister Stella Standing as Michael/Sister Aylsa. The plot:
A model queer activist and community advocate, Jesus (Maximillian Davis) prides himself in his work with the Seattle LGBT community. At the same time, Jesus is having unprotected sex and cheating on his long-time partner Johnny (Samonte Cruz). Jesus's world implodes when he discovers that he is HIV positive, forcing him to confront his innermost fears, his relationship with his ex-boyfriend, and a future living with HIV. Faced with the unknown, Jesus is pulled from the brink of self-destruction by Sister Alysa Trailer (Brian Peters), a drag nun who leads him down a path of self-discovery.
Heart Breaks Open is fiscally sponsored by Three Dollar Bill Cinema and is being produced by Dual Power Productions. They've also partnered with Gay City Health Project, Lifelong AIDS Alliance, and the Seattle chapter of the Sisters of Perpetual Indulgence — The Abbey of Saint Joan but all independently made films could use extra money. Proceeds from this event will help send the filmmakers to the premiere of the film at the BFI London Lesbian & Gay Film Festival on April 6 followed by a run at the Los Angeles Asian Pacific Film Festival at the end of April.
It's a great event for an important cause. You should check it out.
Tags: Heart Breaks Open