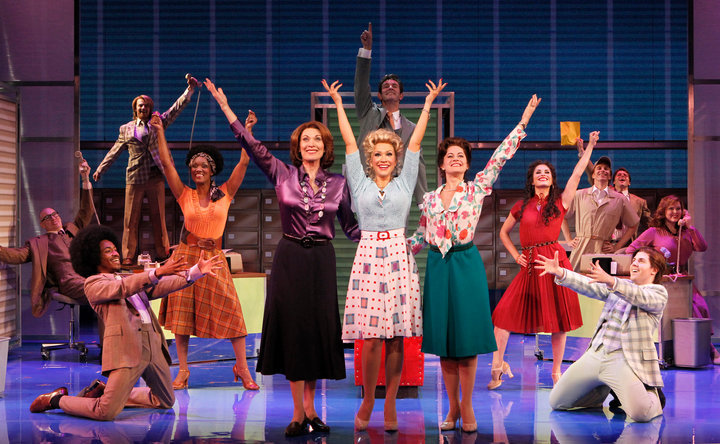 On the theater front this week, there are two shows in town on the regional end of the spectrum that you'll want to check out and support. The 5th Avenue Theater opened "9 to 5: The Musical" on April 5th. The regular gay is most likely asking, 'Why should I go to this show?'
Well, you would go and support this show if you knew who the music was written: Dolly Parton. "9 to 5" is a story about three unusual gal-friends who conspire to take over their workplace and what they find is that there is nothing that you can't do! And with music by award-winning, Dolly Parton, this fresh from Broadway musical is something not to miss. So place on your blackberry and iPhone to go see "9 to 5: The Musical" at The 5th Avenue Theatre.
Catchy tunes, zesty lyrics, and exuberant dancing.

-Bloomberg News
9 to 5 runs through April 24th, Tuesdays through Sundays. Check out the website for additional details, here.
Meanwhile, over at Seattle Repertory Theatre, "This" opens tomorrow and I for one will be lining up to the ticketing booth to get my ticket and support these great performers and artists. Four friends are reaching the end of the 30s and they are testing the boundaries of their relationships. The decidedly un-romantic comedy is centered around a single mother and New York poet who has a fling that causes a domino effect with a trail of unfortunate events. In the cast is Nick Garrison as Nick, along with Hans Altwies, Cheyenne Casebier, April Yvette Thompson, and Ryan Shams.
In an interview with Tim Sanford at Playwrights Horizon, Playwright Melissa James Gibson shared quite an eclectic array of knowledge about her writing process on this play:
Tim Sanford: When did you start writing?

Melissa James Gibson: I was in a theater company after acting school, and we did a couple of playwriting workshops, and I loved it. And I had a reading at the Actor's Studio, of my first short play, and whoever was the usual moderator wasn't there that day, so Norman Mailer was filling in! And I remember just sitting there, thinking, 'Oh great, Norman Mailer. Norman Mailer!' I didn't really know his stuff; I only imagined that he would think my play was girly. It was about two women, and it took place on the border between Canada and the U.S., and I just thought he was going to hate it. But he was just amazingly wonderful and supportive and great. And it was upon his recommendation that I became a member of the writer-director lab there.

TS: How did the characters in This come to you?

MJG: I think Jane was first, and her widowhood seemed valuable and interesting. Then I liked the thought that the adultery would happen with the spouse of a best friend, because of course that's just so complicated. He's not a stranger; it would be a very different thing if he were, and if Jane didn't know and love his wife. I mean this is sort of the worst possible, most painful set up in a way. So it started with those three. But I thought it shouldn't just be limited to those three, that it was about people who had known each other from college, who have really helped each other through two decades, so that brought Alan into the picture. And then it just seemed fun and important to have an outside world perspective, to offer another view and puncture all of their's in a sense.
You can read more on her interview on the Seattle Rep Theater's website and make sure to grab tickets to this fresh show from the Broadway stages and is a West Coast premiere, right here in Seattle. "This" runs through May 15th and the producers are recommending that this show is for anyone 16 and older due to the profanity and adult situations that this story tells. This is only the beginning of great local theater at your fingertips, readers. Join me every Wednesday as I give you the best solution for live theater recommendation for you to mark down as weekend activities.