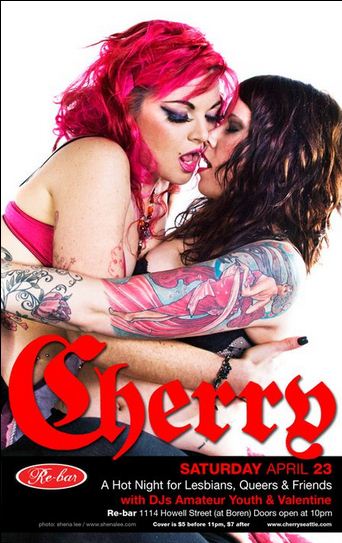 I'm not wasting this weather by hovering over a computer all day…you have tons of options for fun today/tonight (Saturday, April 23). Two options: The monthly event for ladies and their friends, Cherry! is turning 6 tonight at Re-bar. Here's the skinny:
Join us at the Re-bar on Saturday, April 23 for Cherry and help us celebrate our 6 Year Anniversary!

Come out and dance with Seattle's hottest Queer women and their friends! Gay, Straight, Queer, Dyke, Fag, Trans… all are welcome!

Plus we have two of Seattle's most in-demand Queer DJs spinning for you: Amateur Youth (Cherry, Meat) and Valentine! Their mix of ass-shaking party tunes (current hits, hip-hop, pop, rock, 80's… and a few surprises!) is guaranteed to keep you on the dancefloor all night long.

Doors open at 10pm.

Cover is $5 from 10pm to 11pm, $7 after 11pm. 21 and over.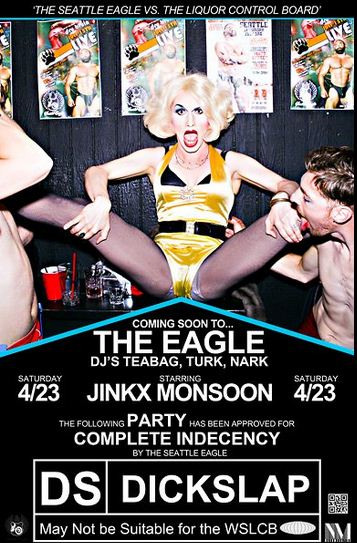 For you manly men/pervs who like to taunt the Washington State Liquor Control Board, you have the option of Dickslap at The Seattle Eagle presented by Nark Magazine and starring all sorts of awesome people doing all sorts of naughty things:
Nark Magazine Presents:
DICKSLAP! The Eagle Vs. The WSLCB (The Washington state Liquor Control Board)

Under recent heat and scrutiny from the WSLCB (again), The Eagle and it's patrons have reached their limit, and it's time to fight back.Now it's time to take it all off, bust out all the giant fake dicks and tits you want and come get as indecent and inappropriate as you please. REVOLUTION starts now, time to cut the rotting umbilical cord and grow this city UP.

Featuring DJ's
Teabag (BERZERK, Pony)
Turk (Busted/Moe Bar)
Nark (CUNT, Fringe, Lip Service)

Completely innappropriate performance by
JINKX MONSOON

OPEN TIL 3:30AM

Chocolately go-go's, giant dicks, cone tits, cobra thongs, speedos, buttocks clefts, guys and girls gone WILD, $2 Jello Shots shot right in your face, and more!

Let's middle-finger bang Seattle together.

SATURDAY 4/23/11
The Eagle
314. E Pike Street
9pm-3:30am, $5 before 1am

Be there and let your skank flag fly, and see off TEABAG before he moves to the gayest city on Earth.
Too, too much fun.