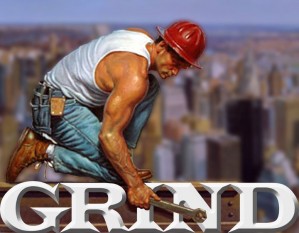 We already previously mentioned Magnitude 15.11, the big North American Rugby Tournament, with special guest Ben Cohen, going on all Memorial Day Weekend, which includes a Rugby After Match Party at Cuff on Sunday. Now the folks from Two Knights Event annouce GRIND on Sunday May 29, 2011 at Neighbours Underground. This darkish underground event will feature dj spaceotter & DJ George Delmar and go until 2am. It's sure to be packed with free cover from 7-9pm and just $5 after. This will be the official afterparty for Lobby Bear 8 at The Lobby Bar (4pm-8pm). Proceeds from that event will benefit Lambert House.
In my experience the Sunday before Memorial Day is one of the busiest Sunday afternoon party days of the year. Don't miss it! More details are coming here.
For more details about GRIND visit www.twoknightsevent.com.
Tags: Grind, Two Knights Events