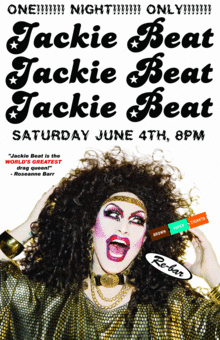 Drag superstar Jackie Beat has been entertaining audiences across the globe for over two decades with her razor-sharp comedy and hysterical song parodies. This coming Saturday, June 4, she'll be gracing the stage at Re-Bar for a one night stand. I was lucky enough to catch up with Jackie Beat for a brief Q & A in advance of Saturday's show. Read on!
LAK: Your upcoming show at Re-Bar has the queers all abuzz here in Seattle. What can we expect?
JB: The usual. A hilarious show that features my amazing voice!
LAK: I first came to know of you through watching Wigstock many years back. What advice would you give that younger version of yourself, having the perspective you have now?
JB: Just be yourself and don't be afraid of anything or anyone. It's true that you really only regret the things you didn't do, not the things you did!
LAK: When I was researching for this interview, I happened upon the good ol' Wikipedia, which said you appeared in an episode of Sex and the City. What was that like?
JB: It was fun! Kim Cattrall seemed like a big fag hag, just like her character Samantha! Sarah Jessica Parker was so thin it was disturbing.
LAK: I've had the privilege of working with you before, through Hot Mess, when you appeared at The War Room with Barbeau, and Chop Suey with the whole band, Dirty Sanchez. What's up with Dirty Sanchez these days?
JB: We keep threatening to make new music, but we're all so busy with our solo careers. We started the band as a total joke and then ended up getting a record deal and playing these clubs on the Sunset Strip where I would look out and see 500 people singing along with our songs. It was crazy!
LAK: In my opinion, you beat about one of the meanest faces around, and your look sets you apart. How have you developed over the years?
JB: My makeup was so bad when I first started, but you learn what works for your face over the years. I have really paid attention to other people's makeup and learned a lot — what to do and, more importantly, what NOT to do! I do a "Marilyn" lip that I learned from Miss Guy (of The Toilet Boys) where you make the upper lip larger by extending the lipliner at the corners of your mouth. I also learned very quickly to always trim your lashes — if they are too wide they droop down on the sides and it looks horrible. I also paint fake eyelids because I don't really have my own. Stuff like that.
LAK: If you were to tell people to do 3 things to prepare for your show, what would those things be?
JB: Check your sensitivity at the door, do NOT text during the show and bring lots of money for tips!
Jackie not only warps hits by numerous blockbuster megastars, but she flawlessly sings her twisted new versions LIVE — hitting every last note. Her hilarious music videos on YouTube are huge hits that have been viewed by millions of people. These parodies have been featured on America's Top Forty with Ryan Seacrest, The Howard Stern Show, Much Music TV, Yo on E! and PerezHilton.com. Her one-woman show "Jackie Beat Is A Whole Lotta' Love" ran a record 18 months at NYC's premiere cabaret, Fez. She's also been featured in comedy clubs across the country, Comedy Central, VH-1, MTV and had has appeared in many TV shows and several movies. …and this Saturday night, we are lucky enough to have her live in the flesh at Re-Bar!
Buy your tickets now, check your sensitivity at the door, and make sure you are not suffering from "irony poor blood" because Jackie will be pulling no punches!
Buy your tickets now at Brown Paper Tickets!
http://www.brownpapertickets.com/event/173463
For more on Jackie Beat:
www.MissJackieBeat.com
More from me at:
www.theeyesoflaurakendall.blogspot.com
Editor's Note: AND, don't forget that the Ms Bacon Strip Pageant is AFTER the Jackie Beat Show on Saturday…it's a separate cover, but it's only $8 if you come in the appropriate costume…bring your tiara and sash to Ms Beat and hang around for Sylvia and Company to see who gets crowned.
Tags: Dirty Sanchez, Jackie Beat, L.A. Kendall, Re-bar