QTET, the Queer Teen Ensemble Theatre summer program produced by the Washington Ensemble Theatre is currently in the final days of rehearsal for their 2011 show, "I've Never… Or: The Ride of Lady Gaga's Unicorn". The five week theater workshop allows LGBTQI area teens to collaborate in creating an original theatrical piece utilizing the stories, ideas and life experiences of the kids involved with the aid of theatrical games, excercises and improvisation. Led by co-artistic director Jessica Hatlo and the production team at WET, the ten participants have crafted an original work that reflects directly on their lives and relationships and asks the following questions:
Have you ever dyed your hair? Have you ever fallen in love? Have you ever taken a ride on a magical unicorn?
All this, plus some Gaga inspired music and imagery…the Little Monsters of Seattle have a voice and an outlet for their creativity. We visited the QTET kids on Tuesday, and from what little we saw, it should be an amazing show…AND, be on the lookout for an SGS-TV interview with Director Jessica Hatlo and three of the very articulate young artists involved. These kids ARE alright.
The Gaga/Unicorn/Sparkle fun begins Thursday, June 23 and runs through Sunday, July 26 at 7:30pm at the Little Theatre/WET at 608 19th Ave E (Between Mercer and Roy; next to Fuel Coffee and The Kingfish Cafe). Tickets are only $5 for Teens/$10 General Admission and are available HERE at Brown Paper Tickets. AND, you can also see the QTET kids marching in Sunday's Gay Pride Parade.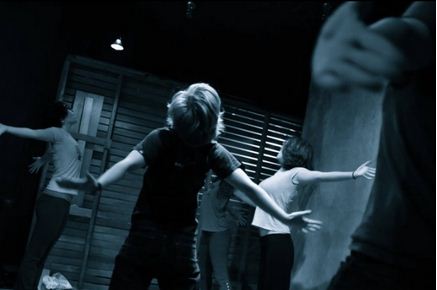 We definitely encourage you to check them out…and the Gaga COMPELS you to go. She loves all her Lil' Monsters.
Tags: I've Never... Or: The Ride of Lady Gaga's Unicorn, QTET, Washington Ensemble Theater