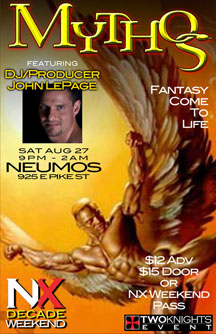 Yep…Northern Exposure is celebrating it's Ten Year Anniversary this year and the events are big, hot, zexy and jam packed full of meaty goodness with events for the men, the women and for everyone, with the biggies being Muscle Up at The Baltic Room on Friday; the huge Mythos party at Neumos on Saturday with DJ John LePage and the weekend ending SweaTea Party at The Cuff Complex with DJ Brian Gorr. The men of Two Knights Events have raised over $100,000 for Lambert House in the last decade and they want to greatly enlarge that total and to get it done, they've scheduled a fat weekend of events. AND, to get the ultimate bang for your buck, purchase your tickets online; online sales end TONIGHT (Wednesday) but tickets can still be purchased at Doghouse Leathers and at the door for most events. (And, the best deal is the Weekend Pass for $30 which gets you into everything.) Check out the line-up:
Thursday, Aug 25th
NX COCKTAIL/ALLTAIL KICKOFF SOCIAL 
6PM-10PM
C.C. ATTLE'S
1701 E OLIVE WAY
FREE ENTRY, DONATIONS ENCOURAGED
Join The NX Team, as we welcome the early revelers for this night of drinks, bawdy humpy beef and general merriment. Jellow Shots, and just fun to be had, and tail to be bad. We will have Prize Drawings, and some new surprises for this very special year!
Along with the fun, we will be listening to the beats of DJ MoJo, as well as some special food treats put out by the CC's themselves!
Friday, Aug 26th
BUXOM BEEFY BONFIRE BONANZA
7PM-10:30PM
ALKI BEACH
ACROSS THE STREET FROM SPUDS(MAP)
NO COVER EVENT, DONATIONS ENCOURAGED
One of the most well attended events over the years, this is a great time to hang out, enjoy a beautiful part of Seattle, and meet some friends. Yes, EVEN SEATTLE has a beach! Come see for yourself.
MUSCLEUP!
W/ DJ GEORGE DELMAR
9PM-2AM
THE BALTIC ROOM
1207 PINE ST.
$5 DOOR COVER
OR PART OF THE NX WEEKEND PASS
We are very pleased to have DJ George Delmar spinning this hot night of men, dancing and fun at one of Seattle's most enjoyable venues.
Come join us for some sexy beats. Having made a huge impact at such dances like GRIND, SWEAT-ea and Daddy Shack Dicso, DJ George Delmar continues to entertain Seattle with his unique sound.
WATCH THIS SPACE : Special MIDNIGHT Surprise planned!
VALKYRIEQUEER!
THE WILDROSE
9PM-2AM
$5 DONATION ENCOURAGED
OR PART OF THE NX WEEKEND PASS
Once again, the Ladies bring it with a Valhalla Vengeance. Come join The Wildrose and some Wild Women for a night of revelry and fun. And we have a few extra surprises in store for you this time around.
Saturday, Aug 27th
NX POOL PARTY
W/ DJ DANA DUB
NOON – 5PM
PRIVATE GREENLAKE ESTATE
$10 ADVANCE TICKETS REQUIRED
OR PART OF THE NX WEEKEND PASS
NEW TO THE NX LINEUP!
We wanted to create an event to allow everyone to enjoy Seattle during such a beautiful time of the year. So come join us for NX's First Ever Pool Party!, with DJ Dana Dub laying down some aquatic grooves and soulful sunsplashes!
And featured at the pool party will be NX Project Runway! The chance for you and your team to "Make It Work!" More info coming soon…
MYTHOS DANCE PARTY
W/ DJ/PRODUCER JOHN LEPAGE
9PM – 2AM
NEUMOS NIGHTCLUB
925 E PIKE ST.
$12 ADVANCE TICKETS
$15 @ THE DOOR
OR PART OF THE NX WEEKEND PASS
RETURNING ONCE AGAIN TO HIS SEATTLE FANS!!! DJ/Producer John LePage takes the stage as NX's own MYTHOS Dance Party once again brings mythology to life.
Sunday, Aug 28th
NX COFFEE TALK
W/ HOSTS CHAD RAKE & MICHAEL ROTMAN KOENEN
1PM-3PM
STARBUCKS ON OLIVE
1600 E. OLIVE WAY
FREE ENTRY, DONATIONS ENCOURAGED
Come join hosts Chad & Michael for an afternoon of great coffee and NX Weekend Revelers. There will be some specials for NX attendees, so keep an eye on this space for more info!
SWEATEA NX CLOSING PARTY
W/ DJ BRIAN GORR
SPONSORED BY CASTROBEAR PRESENTS
9PM-2AM
THE CUFF COMPLEX
1533 13TH AVE
$10 @ THE DOOR
OR PART OF THE NX WEEKEND PASS
We are very excited to announce SWEAT-ea Closing Party for NX this year.
Returning to NX is one of Seattle's Hottest, DJ Brian Gorr. After his hopping set last year at MuscleUp! we knew we wanted Brian to be the one to help us close the weekend on this years very special Northern Xposure.
Going back to our roots with SWEATea @ The Cuff on Sunday night (where we originally premiered it back in 2001) we knew that combining these two Icons of the Community would be a GREAT Combo! So come join DJ Brian Gorr, The Cuff Team and The NX Team for what is sure to be a party that will truly celebrate the TEN YEARS of hard work supporting an amazing place that is Lambert House!
Tags: Mythos, Northern Exposure, NX, Two Knights Events