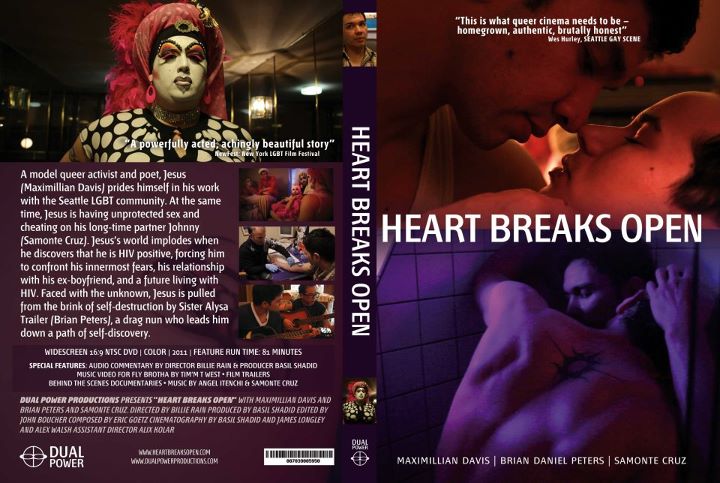 The locally made film Heart Breaks Open which has played film festivals all over the world, including a triumphant showing at the Seattle Lesbian & Gay Film Festival last month, comes to DVD/VOD starting today, Tuesday, November 15, 2011 on TLA-Gay.com. Directed by Billie Rain, produced by Basil Shadid and starring Maximillian Davis, Samonte Cruz and Brian Peters (aka Mama Tits), this moving feature film about a newly diagnosed HIV positive man coping with the changes in his life, was filmed entirely in Seattle by a local cast and crew and has picked up accolades wherever it has screened.
And, if you missed seeing it on the big screen, you can now view it in the privacy of your own home via TLA…the film is available in both DVD and digital formats for home viewing. (And, the cover features a pull quote from Wes Hurley's review of the film featured on Seattle Gay Scene). The DVD also features a gazillion special features: deleted scenes, making-of featurettes, music and poetry from the film, audition clips, teasers & trailers, commentary and much more.
We love this film…and the awesome filmmakers. Check out our video coverage of the SLGFF party for the film and interviews with cast and crew.
You're strongly encouraged to check it out. (Also makes a lovely Holiday gift…)
Tags: Heart Breaks Open, TLA