It's no secret that I am a huge fan of what local restauranteur, Laura Olson has brought to Seattle in the way of Food and Beverage.  Her concepts are something that have caught my eye immediately when I landed in the Emerald City.  From Po Dog to Grim's, I am intrigued by how her mind works.  Is there a market her concepts do not appeal to?
There was some mild hype about her new restaurant, Manhattan Drugs, which made its debut at 1419 12th Avenue in Capitol Hill.  Manhattan Drugs has a certain flair about it that is cozy and creative.  The projections on the wall of the NYC skyline definitely kept me engaged.  So, I decided to try their brunch out on Sunday.  We all know I love to inhale some eggs.  With the entire Spring Forward thing, the restaurant was off to a slower start.  I love spring forward for that reason!
I was greeted and seated immediately by a gorgeous server, Jon.  He was about 5'2″ dark hair, a lip ring and a butt you could bounce quarters off.  Ok, he wasn't for brunch, moving on.  I ordered a coffee.  The night prior, I had been making tons of cocktails for the masses at The Lobby Bar. I wasn't in the mood for a classic bloody mary or a dose of vitamin c, in my mimosa of course.  Sexy Jon, as we will refer to him throughout, seemed to know the menu inside and out.  I quizzed him on the coffee, the eggs, and even the linens.  The linens were something that definitely caught my attention.  They were soft!  Trust me, you will be all about your dinner napkin when you sit down.
After perusing the menu, I asked Sexy Jon for the hollandaise burger.  All I have to say, sensational!
I was blown away by this item.  To keep this old body in shape, I take in a lot of protein.  What better source than bacon, ground beef and eggs?  The taste was out of his world.  So while I was enjoying this  dish, I noticed a couple friends at the bar enjoying mimosas and some food.  I am not one to gossip, BUT  these guys left the Lobby late last night and were getting Sunday Funday started right.  I was curious as to how they had come to get up so early after all the heavy pours from the night before.  I asked Sexy Jon for my check.  He asked me how everything was and I bit my tongue about his service and just said, "wonderful".  What, the boy makes me weak in the knees!
I stopped by the bar to chat with my friends for a bit.  They asked what I had for brunch and I raved about the hollandaise burger.  They did not try it due to their server explaining the portioning being large.  Um, excuse me, we both know you like it large and that would not scare you away.  So, I told him the contrary.  It was the perfect portion.  I had no problem swallowing every bit of it.  Then that left me open to the onslaught of innuendo as I scurried out of the restaurant.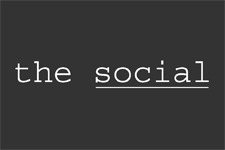 I am excited for what Laura has on the horizon.  Her current work in progress is teaming up with Alex"The Shot Guy"  Garcia and Shanon Thorson to open the newest gay dance/restaurant venue, The Social. The Social is a two level 12,000 sq ft ultra lounge/ restaurant and nightclub. The Social is located on East Olive and will feature three distinct rooms, including four bars and a 3000 sq ft restaurant.  Expect to see national and international DJ talent on the regular. There has been a lot of hoopla about the opening date and all the set-backs.  I got word from a reliable source that they are full speed ahead for an early April opening.  I am beyond excited!
Tags: Manhattan Drug