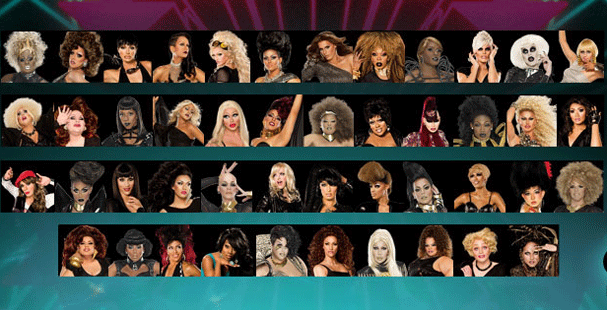 It doesn't air until October but inquiring minds are curious to find out who'll be appearing on Logo's "RuPaul's Drag Race All-Stars". The fourth entry in drag superstar RuPaul's television empire after the original "RuPaul's Drag Race", "UnTucked", and "Drag U",  the All-Stars edition will reunite an unknown number of  popular contestants who DIDN'T win their season for a six episode mini-series of mayhem.
Fan favorite Pandora Boxx has already announced she is participating in the series (was she supposed to?) and Logo has decided to announce the rest of the cast via some clever teasers. Tonight at 10pm during the premiere of the new Logo series, "In the Big House" a teaser trailer featuring hidden images of three of the contestants will air. Tomorrow, (Tuesday, July 24) you can go to the "RuPaul's Drag Race All-Stars" Facebook page to guess their identities.
That sounds awesome but why wait?
Casting Spoilers Ahead!  You've been warned, matey!
XXXXXXXXXXXXXXXXXXXXXXXXXXXXXXXXXXXXXXXXXXXXXXXXXXXXXXXXXXXXXXXXXXXXXXX
XXXXXXXXXXXXXXXXXXXXXXXXXXXXXXXXXXXXXXXXXXXXXXXXXXXXXXXXXXXXXXXXXXXXXXX
Besides Pandora Boxx we've also heard rumors that Raven, Shannel, Alexis Mateo, Latrice Royale and Chad Michaels will be appearing…and, one of these six names will be the first one eliminated!
Escandalo.
We're excited about "All-Stars" but we're more interested in knowing who's gonna be on "RuPaul's Drag Race Season Five" which is tentatively set to premiere in January of 2013…we've heard some rumors….
Stay tuned.
Tags: LOGO, RuPaul's Drag Race All-Stars