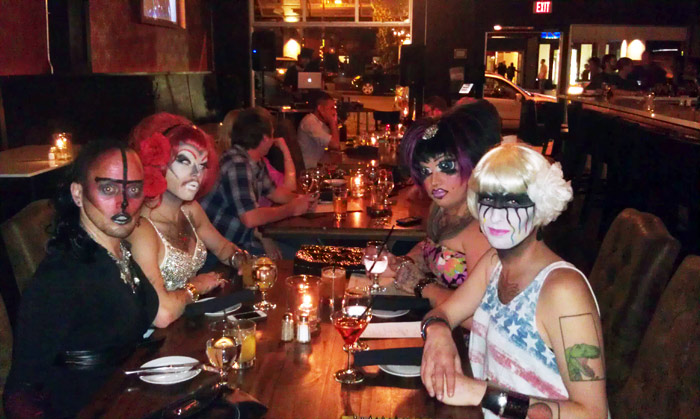 Ed Note: We're happy to welcome The Haus of LadyDude into our stable of contributors, who will be bringing THE LADYDUDES WHO LUNCH regularly to SGS. – Les
– – – –
Here's to the LadyDudes who lunch! A group of local performers that likes to stir the pot, make people think, and open eyes. We drink, we dine, and we offer something a bit different for strangers to discuss over their meals around us. How different is it to dine in drag? We intend to find out. Join us on our first trip out to Manhattan Drug with all of the LadyDudes: Ursula Major, Cherry Sur Bete, Minerva Major, and Olivia LaGarce. 
The time was approximately 10pm on a Friday. The Haus of LadyDude entered a small casual steakhouse on Capitol Hill near 12th and Madison by the name of Manhattan Drug. The general atmosphere and appearance of the restaurant was pleasing. Gold antler print graced the red papered walls in a soft yet warmly lit dining room. A very large pair of gold antlers sprung from the head of a ram that spiraled into the barrels of two M16 rifles. It gazed down upon the room from its perch above the bar. Its presence was captivating, and it really tied in well to the very lavish dark feel of the room. The four of us were comfortably seated at a table in the center of the room by the cheerful young woman that had been expecting us. Cherry Sur Bete had spoiled the surprise that a gaggle of be-dragged performers would descend upon their establishment earlier in the evening when she had called to make a reservation. What a bitch!
The hostess promptly brought us water and assured us that our server would be over soon to take our order. We were informed on the phone that there would be a DJ, and that they hoped it wouldn't dissuade us from coming in. We had immediately noticed that, although the music was current at an acceptable level for the room, it didn't really mesh with the feel of the restaurant. We took into account that we were eating dinner at a more cocktail-ish hour, so it wasn't that big of a deal. There were maybe 4-5 tables of people in the restaurant, totaling around just over a dozen patrons. The room seemed somewhat empty, but the crowd also seemed very transitional. Some were eating, some were just having cocktails, clearly on their way elsewhere. The space definitely had potential to be better patronized if the intentions of the establishment has been more clear at this hour. Are you trying to target a dinner crowd, or do you just want people sipping cocktails? Perhaps the DJ should start a bit later or make sure the music is more appropriate for a dinner atmosphere while food is still being served.
Our server soon came to the table and asked us for our drink order. She was polite, but mostly reserved. She wasn't explicitly rude or inattentive, but she wasn't very engaging either. It could very well be the fact that we were in drag and it was somehow overwhelming, but there is really no way of telling with our minimal interaction. Ursula Major asked the server for a straw for her water, to which the server merely nodded and forgot the straw on the next two visits to the table. (You must bring a straw to the man in the dress with drawn on lips.) Ursula also ordered the Pimm's Cup which she found to be very refreshing and light. Lots of alcohol, but it didn't taste like it – perfect. It was the perfect selection for a warmer evening. Pimm's Cup is a very traditional cocktail made with Pimm's No. 1, ginger ale, lemon, and cucumber. The NY Times recently credited it as being the perfect summer cocktail this year. With its origin in England in the early 1800s, it has found a place riding the recent social resurgence of love for all things vintage. Minerva and Cherry both ordered a gin based drink from the specials menu called a "GBJ". They both loved it. Olivia had a "Brooklyn" cocktail with Maker's Mark, Luxardo, and Peychaud's bitters, which she thoroughly enjoyed. All of our drinks were very traditional and well executed cocktails of yesteryear that really lent themselves to the atmosphere of the restaurant.   
Our food came in a fairly timely fashion and the presentation was fantastic. Everything looked delicious. Ursula ordered the french onion soup. The flavor, texture and portion was perfect right down to the fresh herbs sprinkled over top the cheese. Olivia described the pork belly mac and cheese as "… delicious, and I wake up in a cold sweat in the middle of the night craving it." Minerva's pimento grilled cheese and fries came out a bit soggy as if they had been left under a heat lamp while the rest of the food was prepared, but Cherry's corn and crab chowder was the best she'd ever had. Olivia, being the fatty she is, had also ordered shrimp and grits, but it paled in comparison to the mac and cheese. The grits were too watery, and the shrimp had no flavor. It was nothing like the rich, creamy, and expectedly somewhat spicy dish she had wanted. Having grown up in the south, Olivia had much higher expectations of such a traditional dish. Cooking the grits in boiled milk and adding some seasoning to the shrimp could really help this dish live up to its expectations. They went unfinished, and that's saying a lot for Olivia – we know that bitch can eat!
After a couple more unenthused visits from our server, the hostess came over when she noticed that we were taking pictures of each other. She graciously offered to get a picture of all of us at the table, which she then did. We honestly felt that the hostess was being more attentive and accommodating than the server herself, but the overall service was acceptable.
Here are the overall scores: (out of 5)
Food – ☠☠☠
Drinks – ☠☠☠☠☠
Service – ☠☠☠
Atmosphere – ☠☠☠☠
Had the staff not known we were coming, our trip might have been a bit different. There could have potentially been more surprise from the staff, but we needed to keep in mind, this was an establishment on Capitol Hill, so we weren't expecting anything too crazy when it came to reactions from staff or other patrons. The other customers around us didn't really do too much more than glance over at us from time to time, and we were hardly the subject of their conversation. We were just a bunch of men in dresses and makeup at a table – no big deal to veteran Capitol Hill scenesters. Upon discussing it, we don't feel our service or food quality suffered in any way due to the fact that we were dining in drag, so it looks like we are going to have to stray away from the hill to get some gawkers.
Watch out, Seattle… where are you going to find the LadyDudes that lunch next?
Tags: LadyDudes, lunch, Manhattan Drug