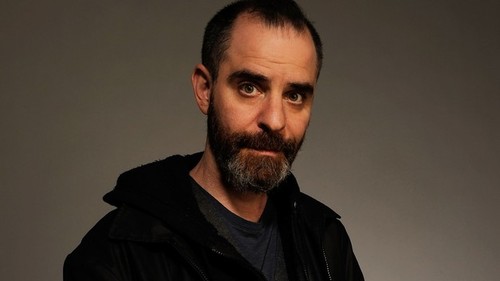 David Rakoff has died. The New York Times is describing him as a writer with a "singular style, which combined an amiable dyspersia with an almost palpable undercurrent of melancholia." Dyspersia means stomach disorder in fancy English, and I think that probably is the way Rakoff's body responded to the world around him. But I remember him mostly as an extremely empathetic writer who always used his incisive wit in the service of good. I remember how, in the memoir Fraud, he lampooned a yoga retreat in which he once took part, but for every cutting remark about the new-agey phenoms that both fascinated and repelled Rackoff, the person he was most often satirizing was himself; a gay, Jewish, Canadian-born New Yorker.
Always the skeptic, Rakoff reveled in being un-hip and he made you want to revel in it, too. After graduating university, Rakoff moved to Japan to work as a translator. In one interview with Ira Glass and aired on This American Life, Rakoff described applying for a job in what was then a completely unknown field: The Internet. David, hilariously, thought "what a STUPID idea."
In one of his most famous essays, he posed as Sigmund Freud in a Barney's Christmas window. Bored, he ended up inviting New Yorkers to sit and bare their guts on his makeshift therapy couch. To one such "patient" he offered his own Freudian analysis of the Santa Claus myth. It's already been published in a bunch of other obituaries, but what the hell, I love it:
"Let's look at the name. Father Christmas," he says, emphatically. "It's obviously an Oedipal fantasy. Santa Claus is supposed to come down a chimney, a simulacrum for a vagina. Then he leaves presents, and children are always anxious about what kind. So it's really all about parents engaged in sex, an act that necessarily excludes their kids."
It's a strange thing to write an obituary for such a talented, self-lacerating memoirist who wrote so much about his own life because I actually have the feeling that David was a friend of mine and that, once, we may have even lived together. Really, I was just reading, but it was as if he was a companion of mine, offering sage wisdom, wit and empathy. David was melancholic, but never misanthropic; you don't write such deeply affecting essays without having a great love for the world around you. I already miss him so much.
—————————————————————————————————————————–
Steven Blum is a writer formerly known as "The Stranger's Public Intern". He lives in Berlin, Germany.
Tags: David Rakoff, This American Life