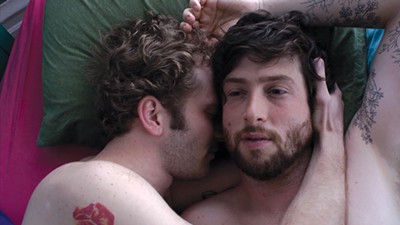 We've been talking it up for WEEKS but the big day has finally arrived and the 17th Annual Seattle Lesbian & Gay Film Festival opens TONIGHT, Thursday, October 11 at the Cinerama with the Seattle premiere of the black comedy, "Struck By Lightning" starring Chris Colfer. A few tickets are still available for the Gala, which includes the after party event at The Social, AND there are shuttle buses to move you back and forth to the two venues. It should be a fun night for film fans, and fans of Mr. Colfer…it's his first starring film role and he wrote it as well. It also doesn't hurt that the suddenly hot new comedienne, Rebel Wilson co-stars as Mr. Colfer's best friend in the film. Check it out!
You can check out our focus on Friday's films, here, and now we're moving ahead to Saturday, October 13th for a couple of recommendations…Sistah Sinema, Seattle's local queer women of color film group is co-presenting, "Stud Life" on Saturday at 4:45 at Northwest Film Forum. It's a sexy British drama by filmmaker Campbell X…
Butch lesbian JJ and emo gayboy Seb take wedding photos by day and hit the London clubs by night. The best mates share everything from a flat to spliffs to dodging street thugs as they make their way through the multiracial and multigendered LGBT street scene. When JJ meets the luscious femme Elle, she suddenly doesn't have much time for Seb. But Seb's got his own stuff going on, pursuing hot Internet date Manchester Joe and evading drug dealer Smack Jack. Dive into the grittier side of urban London's STUD LIFE through the loves, heartbreaks, fights, and joys of this colorful cast of characters.
For the men of Seattle, we strongly urge you to to check out the "midnight" screening of "I Want Your Love", the full length film version of a very popular and notorious short film that made the Intertube rounds a couple years ago. The film, by director Travis Matthews who has gone on to make an eagerly anticipated "re-imagining" of the controversial film "Cruising" with actor James Franco, features actual sex scenes but don't confuse "I Want Your Love" with your typical gay porn film. It's an insightful and bittersweet film about a group of gay men living in San Francisco and the final night of one of them before he moves back to the Midwest.
After years of struggling to make a living in San Francisco, performance artist Jesse is forced to pack up and move back home to the Midwest. He spends his final West Coast night at his going-away party surrounded by his chosen family, including his ex-lover Keith. As Jesse's dreaded departure nears, can he really walk away? In turns funny and bittersweet, I WANT YOUR LOVE is also frequently sexually explicit, as the uncensored erotic details of Jesse's life—awkward, spontaneous, sometimes sloppy, but always real—are revealed in this bold and fresh drama from Travis Mathews (In Their Room).
If you are a fan of John Cameron Mitchell's "Short Bus" and films that are both sexually provocative and dramatically compelling, we strongly urge you to check out "I Want Your Love"….frankly, it's one of the must not miss films of this year's SLGFF.
And, check out the entire line-up of screenings for Saturday, October 13th.
Tags: I Want Your Love, Sistah Sinema, Stud Life, Travis Matthews