We love funny ladies…a dude telling jokes in front of a brick wall doesn't do a whole lot for us, but a funny woman with a unique sense of timing…sign us UP!
There are two funny women heading to the Seattle area in the next couple of months…and, the first one is a card carrying member of the "Ladies Who Love Ladies" club. Actress/comedian Wanda Sykes first caught the public's attention a decade ago with her first appearances on national tv and her brash, sardonic delivery quickly struck a chord with comedy fans. Ms Sykes began booking more and more appearances and eventually began an acting career, taking on tv and film roles including a co-starring role on "The New Adventures of Old Christine". She earned more lgbtq fans when she came out of the closet in 2008 while campaigning against California's Proposition 8. The out and proud comedian continues to fight for lgbtq causes.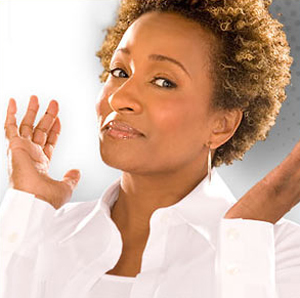 Local fans will have the opportunity to check her out on May 24, 2013 at the Orcas Ballroom at the Tulalip Casino way up north near Marysville, WA in Snohomish County. Tickets are already on sale for the gig over at Ticketmaster…Wanda is a bit blue and it's a drinkin' place so the show is 21+.
Postponed from April, there's also a terrific night of lady comedy happening on June 14 & 15, 2013 over at Laughs Comedy Spot in Kirkland. She's not quite as well known as Ms Sykes, but up and comer Aisha Tyler is rapidly earning a name for herself as a comedian as well as for her voice…she's the voice of sexy spy Lana on the hit FX animated show, "Archer" as well as the very witty host of her own podcast, "Girl on Guy" one of the hottest podcasts available on iTunes. Ms Tyler has also been very visible as a host of "Talk Soup" and "The Talk" and for her appearances on Stephanie Miller's "Sexy Liberal" comedy tour and radio show.
She's also the reigning champ of "Celebrity Jeopardy"….SMART!
Aisha Tyler will be doing 8pm and 10pm shows at Laughs on June 14 & 15…go get your tickets HERE!
Tags: aisha tyler, Laughs Comedy Spot, Tulalip Casino, Wanda Sykes