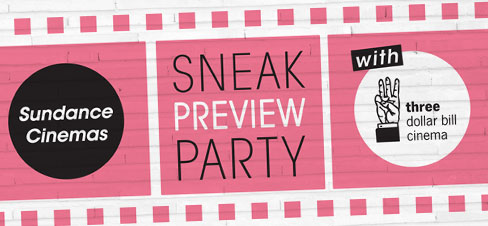 There's a party going on this coming Tuesday, July 16, 2013 as Three Dollar Bill Cinema, the fine folks who bring us the Seattle Lesbian & Gay Film Festival and many other film events, hosts a very special sneak peek at the luxurious new Sundance Cinemas in the U-District. The former home of Metro Cinemas, the 10 plex cinema was purchased by the Sundance folks last year and completely remodeled. Expect new ultra comfortable seating with tablettes; a full bar and expanded "bistro" food options you can consume at your seat. PLUS, the cinema has a ton of new and up to date projection equipment to present films as pristinely as possible.
Sundance and Three Dollar Bill are teaming to not only introduce folks to all the improvements at the theater, but to raise money for Three Dollar Bill's programs. 100% of ticket sales go to the non-profit and support of the Film Festival, Reel Queer Youth and the upcoming Summer Outdoor Screening series at Cal Anderson Park, (which kicks off Friday, July 19 with the ORIGINAL, John Waters directed HAIRSPRAY starring Divine and Ricki Lake!)
The fun starts at 6pm with hostess Sylvia O'Stayformore and an array of complimentary drinks and appetizers. AND, you'll also get to see a selection of sneak previews. FREE parking in the lot north of the cinemas means that for $15 you get entertainment, food, booze, parking and an opportunity to help out a terrific non-profit. WIN/WIN!
You can buy your advance tickets HERE and be aware that this is a 21+ event!
AND, Three Dollar Bill has given us some LOVELY TICKETS to give away.
The first three people to respond in the comments down below, will win a pair of tickets to the event…and, our quiz question is SOOOOOO simple…
Name a John Waters film starring Divine.
First three to respond with DIFFERENT correct answers, wins the tickets.
Ready…set…go!
UPDATE: THE CONTEST IS CLOSED! WE HAVE OUR WINNERS! CONGRATS TO: Lantz, Robert, Devon, Brittany and Edward!
EVERYONE ELSE, GO BUY TICKETS! IT'S FUN AND FOR A GOOD CAUSE!!!
—————————————————————————-
Tuesday, July 16 — Party kicks off at 6pm, program starts at 7pm
Sundance Cinemas Seattle, 4500 9th Avenue NE, Seattle, WA  98105 
FREE parking for the party in the Sundance Cinemas lot on the North side of the building.