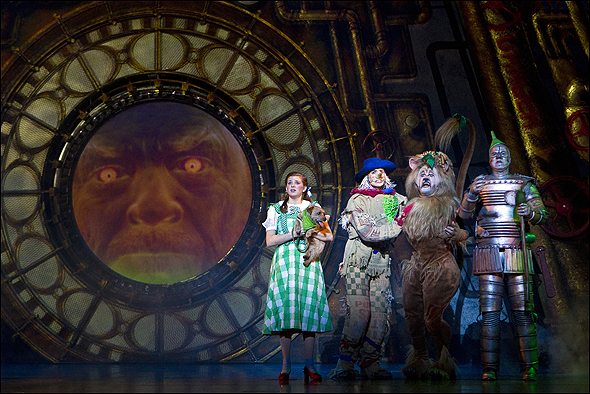 Review: "The Wizard of Oz" by L. Frank Baum. Original film music by Harold Arlen. Original film lyrics by E. Y. Harburg. Additional lyrics by Tim Rice. Additional music by Andrew Lloyd Webber. Book adapted from the MGM film by Andrew Lloyd Webber and Jeremy Sams. Choreography by Arlene Philips. Directed by Jeremy Sams. With Danielle Wade, Cedric Smith, Mike Jackson, Lee MacDougall, Jamie McKnight, Robin Evan Willis and Jacquelyn Piro Donovan as The Wicked Witch of the West. Now through Sunday, October 13, 2013 at The Paramount.
If you think you're going to get a synopsis of "The Wizard of Oz" the new Andrew Lloyd Webber produced and adapted musical stage version of the beloved MGM film that starred Judy Garland and based on the equally beloved novel by L. Frank Baum, then you need to think again. "Oz" is America's fairy tale…if you don't know the basic plot, then you're an idiot.
What you do need to know about this production, currently at home at Seattle's Paramount Theatre until Sunday, October 13th, is that this is a new production created in the UK under the tinkering, meddling hands of theater impresario Andrew Lloyd Webber which includes new songs from Sir Andrew and his frequent collaborator Sir Tim Rice. All the old beloved songs by Arlen/Harburg are here, too, from the original 1939 film including "Over the Rainbow" but to make a full length stage presentation, there was a need for more songs. The original film only had 8. Of course, the first problem that arises with this show is the fact none of the new songs are interesting or memorable. None of them linger in your head or in your heart more than a moment or two after the actors are done performing them. Fortunately, the classic songs do linger…how could they not? Though, it's odd that they dropped one of them, the Cowardly Lion's deliciously hammy "King of the Forest"…was it because the Lion got two songs and all the other companions really only got one? Regardless, the bland new Webber/Rice songs are forgettable.
The story is basically the same as the film, though with most of the classic beloved lines intact…the only problem is that this production seems to have gone out of its way to attempt to make those lines their own…which is a mistake. We cherish those lines and those line readings because they were BRILLIANT! You can't top Margaret Hamilton's interpretation of The Wicked Witch or Bert Lahr's Lion…these are beloved performances and you're already aping the good songs and the dialogue…just give us what we want and give us the classic interpretations as well! Jacqueline Piro Donovan tries her best to make her Witch interesting and fresh and new, but that's really not what we want…we want Margaret Hamilton scaring the hell out of us. This new "Oz" has remade the Witch into a sexy/funny/campy Disney type villain…she's a bit like "RuPaul's Drag Race" judge Michelle Visage but without the wit or cleavage. Ms Donovan is a fine performer but her Witch is just too corny to be very interesting. The same is true for most of the performances of the classic characters. Lee MacDougall's Lion is very, very gay…it's like they're going for Nathan Lane interpretation of the Cowardly Lion, but it falls a bit flat. It wants to be "camp" but it's not willing to really go all out and embrace it.
In fact, that's the chief problem with this "Oz"…they're not quite sure what they want to be. A pleasant reenactment of the original film? Something new and original? A family show? A campfest for the gays? Sir Andrew's "Oz" attempts to be all these things and doesn't quite satisfy at any level. They stray too far away from some elements of the film, embrace others and the new material isn't very good. It's a family show but they sneak in lots of gay jokes…including, a hugeass rainbow every chance they get. It's a bit messy and not completely satisfying.
That being said, it's still a relatively enjoyable two plus hours of rather familiar fun. The Kansas Dust Bowl sequences are beautifully designed and the tornado sequence was brilliantly executed. (Oddly, the Oz design disappointed me…too overtly garish but in a cheap sort of way). And, while the tornado sequence was expertly done, largely with the use of projected film, a device frequently used in this production, other effects were disappointing…if you were expecting any of the Witches or the Flying Monkees to actually fly, you'll be disappointed. There's no wire work in this "Oz". (Glinda "floats" into her first scene but she's clearly on a lift.) There's some lovely design touches in this "Oz" but it also feels…a little cheap at times.
As for our Dorothy, Danielle Wade does a lovely job in a rather sweet performance that echoes Judy Garland in certain vocal mannerisms. She's not the singer Judy was, and her "Over the Rainbow" was too tentative, but all in all Ms Wade gives the sweetest and most heartfelt performance in this production. It hasn't been tampered with or "Disneyfied" like some of the other characters; it's just a tender little performance.
The real star of the show…Toto as portrayed by "Nigel".  I really didn't pay that much attention to Ms Wade's performance of "Over the Rainbow" because I spent most of that time staring at the dog and cooing under my breath, "He's ADORABLE!!!" Nigel (or,maybe it was Loki, the understudy?) was a seasoned little trouper with tons of charisma. He's reason enough to see this show.
Who's this for? Ideally, it would be a gay family with young kids. The youngsters will enjoy the songs/spectacle while the two daddies/two mommies will chuckle at the camp of it all.
Tags: The Paramount, The Wizard of Oz