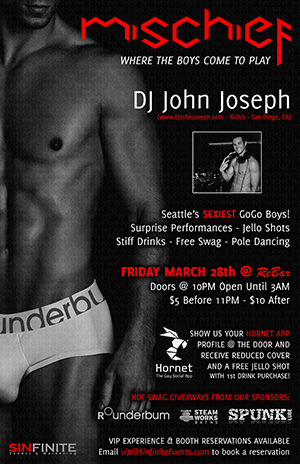 The men of Sinfinite Productions, Arden & Jimmy have laid relatively low for the last few months as they creatively recharged their batteries but the popular duo of Seattle event producers (whose hits include the much lamented and hugely popular ElektroPop! at The Baltic Room) are back with news of a hot, zexy new monthly dance party…MISCHIEF!
MISCHIEF is set to happen at RE-BAR on the 4th Friday of the month and it seems to be curated for the man on the prowl…looking for a little action of the horizontal persuasion. The first night of MISCHIEF is scheduled for THIS month, Friday, March 28 at 10pm after the Dina Martina Show, (maybe Dina will hang around afterward! She loves meeting new folks!) Here's what you can expect per their lusty invite:
MISCHIEF – 4th Fridays at ReBar – Where the boys come to play!

The HOTTEST new monthly boys' night out in Seattle! A mischievous night to delight your senses with SEXY music, STIFF drinks, and HOT men! Serving up seductive beats from San Diego HOTTIE DJ John Joseph (www.DJJohnJoseph.com) and revealing Seattle's SEXIEST new gogo studs!

– Pole Dancing!

– Body Shots!

– Live Stage Productions!

– Lap Dances!

– Delicious Drink Specials!

– Swag Giveaways!

– Photography!

– JELLO!

***ROUNDERBUM UNDERWEAR MODEL SEARCH – Stay tuned for your opportunity to fly to Los Angeles and become Rounderbum's next underwear model! Details out soon, stay tuned here and www.SeattleGayScene.com

Contact us to reserve a party booth for you and your friends! Email: vip@SinfiniteEvents.com

ADMISSION:
$5 BEFORE 11PM – (Discouts available after 11pm w/ HORNET APP download! see details below)

THIS IS A 21+ EVENT

_________________________________________________

PROUDLY SPONSORED BY:

****Rounderbum Underwear**** (www.Rounderbum.com)
See our sexy gogo men and DJ John Joseph working it out in some hot new underwear from Rounderbum! Get lucky and you could take home one of our $50 Rounderbum gift certificates!

***SPUNK Lube*** (www.SpunkLube.com)
Giveaways, discount codes, samples, and SWAG from SPUNK Lube! Check them out online to discover their full line of award winning products!

***HORNET APP*** (www.GetHornet.com)
Download the free HORNET app on your iphone/Android device, get $2 OFF COVER and a FREE JELLO SHOT with your first drink purchase! Download HORNET here: www.GetHornet.com

***STEAMWORKS BATHS*** (www.SteamworksBaths.com)
OFFICIAL MISCHIEF AFTER PARTY – When the beats stop, the mischief continues at STEAMWORKS BATHS on Capitol Hill
***$5 off admission for Mischief attendees***
Let's be frank….the Sinfinite boys are looking to put on a dirty, zexy, fun party night…they didn't add a stripper pole to Re-bar for nuthin'! If you're a pearl clutching old lady geigh, you'd better stay home with your pussies, Lil' Debby snack cakes and all night reruns of The Golden Girls. If you wanna get down and dirty, then head to MISCHIEF.
Note: MISCHIEF is our latest SGS ad! So naturally we're gonna show them some zexy LOVE!
And, maybe a wee bit of inappropriate rubbing…
Tags: Men's Events, Mischief, Re-bar, sgsapp, Sinfinite Productions, Zexy Events