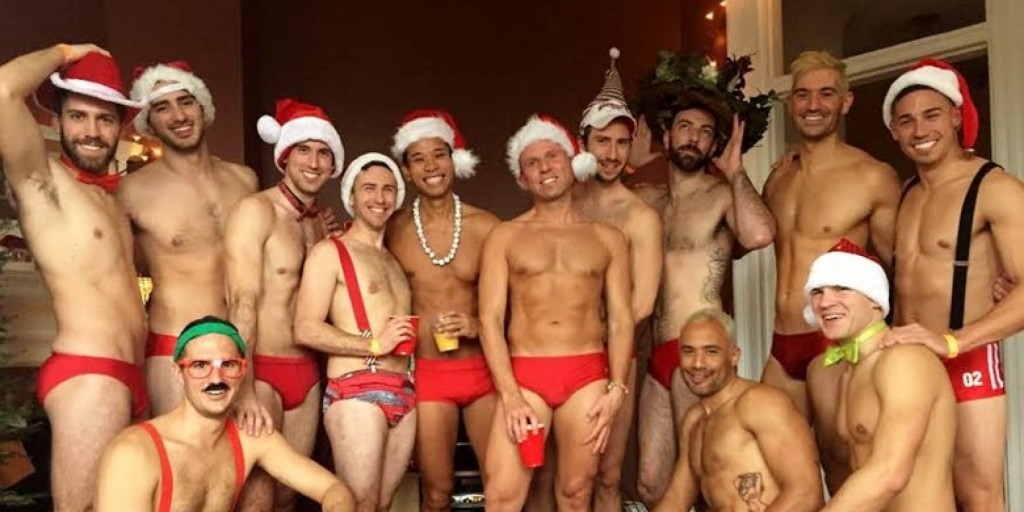 EVERYONE should have fun and be SAFE for tonight's "Fifth Annual March of the Mistletomosexuals" the fantabulous seasonal event/bar crawl put together by everyone's favorite "Bucket" Mr. Scott Britt. The straight-ish version, Santarchy was last week but tonight, (Saturday, December 19) Seattle's gay men and allies take to the streets/bars of Capitol Hill for merry frivolity, hopefully in deliciously brief Santa-ish/Holiday inspired gay attire.
It all starts at 9pm at CC Attles before moving on to Diesel, Madison Pub, Purr and Pony before ending up at The Cuff and/or The Eagle to wrap up the night. Feel free to start your crawl whenever and where ever you like! You don't have to go to EVERY stop!
Here are the general instructions/deets. And, to emphasize, please be safe and don't wander around alone if you're tipsy. SAFETY IN NUMBERS! The key is to pace yourself on a bar crawl! One drink per bar (or, even just have some water at some stops) and do not get hammered and incapacitated! Have money/credit card/phone safely tucked away to pay for and get a cab/Uber ride back home! Do not drive a car while wasted!!!
And, have fun!
It's Seattle's gay version of Santarchy/Santacon. It's a Santa-themed bar crawl, with awesome costumes, Santas, misfit toys, and more FUN than you can shake a candy cane at!

Here's a brief lowdown on the ho-ho-hoedown:

A general schedule:
The plan is to begin massing around 9:00 pm at CC Attle's. CC's is big enough to hold most, if not all of us. From there, we'll begin our march on Broadway to the Pike-Pine corridor around 10 pm. We'll patronize Diesel, Madison Pub, Purr, and Pony; these are small establishments, so feel free to pick one. The goal is to meet back up again at the Cuff around 11/11:30. Many may choose to hang out at the Cuff for the rest of the night, with others rolling down the hill to the Eagle. 

Some general RULES:
FIRST: Wear a costume. The "true" Santacon/Santarchy uniform is a Santa suit. The March of the Mistletomosexuals is "gay Santarchy," so our group is naturally more creative and definitely more flamboyant. Wear lights, tinsel, and GLITTER! Be a reindeer, or an elf, if you want. Heck, be a Grinch, if you like. SIMPLY WEARING A SANTA HAT IS NOT ACCEPTABLE (unless you're otherwise nearly naked.) Not wearing a full costume is lame and we will NOT let you play our reindeer games. 

SECOND: Yes, it's "Santarchy," but we are by no means anarchists. Please behave responsibly.
1. BRING YOUR I.D. You will not be allowed in a bar without proper identification.
2. Santa is not cheap. You WILL PAY any bar cover charges and you WILL NOT complain.
3. You will be courteous to the public. Feel free to bring candy to give to people you meet on the street. No drunken disorderliness, please.
4. At any location, we'll linger just long enough for one quick drink. Stay with your group when they shove off to another welcoming watering ho-ho-hole.
5. If a bar is too crowded, go with a group to another one.
6. Bring enough cash to take a cab home.

THIRD: It's sad to need to mention this last bit, but due to recent incidents on the Hill, PLEASE do not get tipsy and walk around alone. Stay in a group. When the night is over, don't walk back to your car or home alone. (If you're tipsy, call a cab.) Everyone's goal is to get home safe, alone, or with one or more Santas!
FOURTH: Be outgoing. Have FUN. SING! CHANT! CHEER! Get yourself on the naughty list (in a good way.)