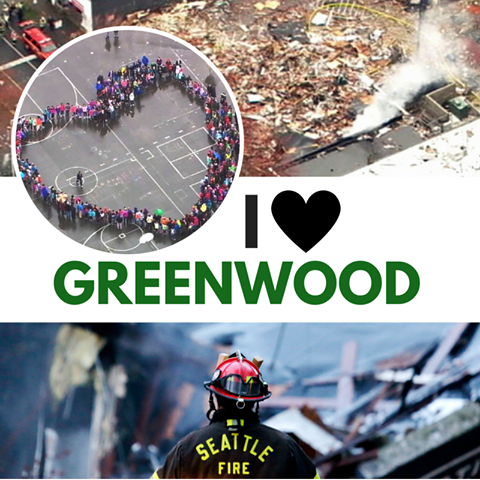 Shocking photos and video today from the scene of a gas explosion in the Seattle neighborhood of 85th & Greenwood in the north end of the city. 9 firefighters were injured in the 1:45 am explosion Wednesday, March 9th, that destroyed several businesses including Greenwood Quick Stop Market, Neptune Coffee and Mr. Gyros. Several surrounding buildings sustained serious damage while there are reports of broken windows in buildings for blocks around the scene of the blast. Many businesses in the area are shut down today for repair.
Seattle Fire Department fire fighters were originally called to investigate a gas leak in the building a little after 1 am. Forty minutes later, the building exploded and injured 9 who were admitted to Harborview but have been all released with minor injuries. There are reports that several homeless people regularly sleep behind the building that exploded, but they had apparently not been at the scene when the explosion occurred. Seattle Fire Department and Puget Sound Energy are investigating the cause of the blast.
Seattle Mayor Ed Murray released a statement this morning:
"My thoughts are with the Seattle firefighters injured from last night's explosion in Greenwood and I wish them a quick recovery. These men and women risked their lives this morning, as they do every day, to keep our community safe. I am grateful for their service and all of our first responders.

"As the investigation and clean-up continues today, I ask that commuters along the corridor be patient. Please follow updates from the Seattle Department of Transportation and King County Metro on detours and alternate transit routes to keep people moving through the neighborhood and away from the scene during the investigation.

"Greenwood is a close knit neighborhood and an incident like this is felt by the entire community. I know neighbors will do everything they can to support these businesses as they begin the long and challenging task to recover and repair from this incident. The City will also be there to do what we can to help those affected with the clean-up and help local business owners as they work to get back on their feet and re-open their doors."
The Pocket Theater, a gay friendly performing arts venue across the street from the explosion had this to report via their Facebook page:
Hey Friends/supporters,

Last night at around 2am, a block down and across the street, the was a a gas main explosion (centered around Mr Gyro's/Neptune). Those buildings have been completely leveled. Some information as it pertains to you:

1. No one from The Pocket was harmed. Clayton is ok. No volunteers were on site. No performers were rehearsing or using the building. Everyone is fine.
Tags: Gas Explosions, Greenwood Explosion 2016, Greenwood Neighborhood Seattle, Pocket Theater