Seattle Repertory Theatre has assembled a powerhouse cast of actors, both local and imported, for their fall 2016/17 season opening production of Lorraine Hansbury's classic play A RAISIN IN THE SUN which begins previews on September 30th. Directed by popular Seattle actor and educator Timothy McCuen Piggee, the popular play makes a return to a major Seattle stage. In recent years, the play has received two major Broadway revivals with Sean Combs, Audra McDonald and Phylicia Rashad in 2004 and again in 2014 with Denzel Washington heading the cast.
Timothy Piggee is a professor at Seattle's Cornish College of the Arts and he's been teaching this play in his Text Analysis course for the last two decades. Every freshman in Cornish's theater department spends three to four months intently studying this play under Piggee's instruction. Collaborating with the The Lorraine Hansberry Literary Estate and the Schomburg Center for Research in Black Culture, this new production of "Raisin" had access to all drafts of the play.
"The Lorraine Hansberry Estate has been incredibly generous in its support of our production," Seattle Rep Artistic Director Braden Abraham commented. "Seattle Rep has the rare opportunity to work this closely with Hansberry's notes and original drafts of A Raisin in the Sun. And I'm thrilled that our revival of the play is led by Timothy Piggee – a director so finely attuned to its every detail."
Seattle based actors Claudine Mboligikpelani Nako, Charles Leggett, Anthony Simmons, Brace Evans, Andrew Lee Creech, Jalani Clemmons and Catalino Manalang will be joined by out of town actors Richard Prioleau, Ricardy Charles Fabre, Tré Cotten and Denise Burse starring as Lena Younger. Ms Burse makes her 4th appearance at the Rep following her appearances in last spring's production of brownsville song (b side for tray) in the Leo K. Theatre and roles in two of August Wilson's plays staged at the Rep, The Piano Lesson directed by Lloyd Richards and Radio Golf directed by Kenny Leon.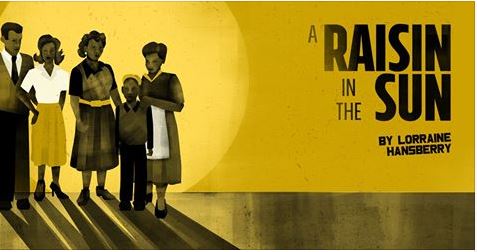 The beloved 1959 play centers on Lena Younger, the matriarch of a large family living in a small apartment on Chicago's South Side with her son Walter Younger and his family. Walter wants to use a recent inheritance to buy into his own business but in an effort to improve her family's life, Lena uses the money to put a down payment down on a new home for the family in the middle class but white neighborhood of Clybourne Park. That act creates a chain reaction of events which will change the Younger's lives forever. Hansberry's award winning drama also created a chain reaction as it exposed the evils of racial intolerance and unfair housing laws to audiences around the world and while progress has been made, the themes of the play still resonate today in Seattle, a city where gentrification is raising new concerns about fair housing and segregating communities by ethnicity and wealth.
Seattle Rep's production of "Raisin" will begin previews on September 30, 2016 and officially open on October 5 and run through October 30 in the Bagley Wright Theatre at Seattle Rep on the Seattle Center campus. Tickets are on sale now through the Seattle Rep Box Office at (206) 443-2222 and online at seattlerep.org.
Tags: A Raisin in the Sun, Seattle Repertory Theatre, Timothy McCuen Piggee