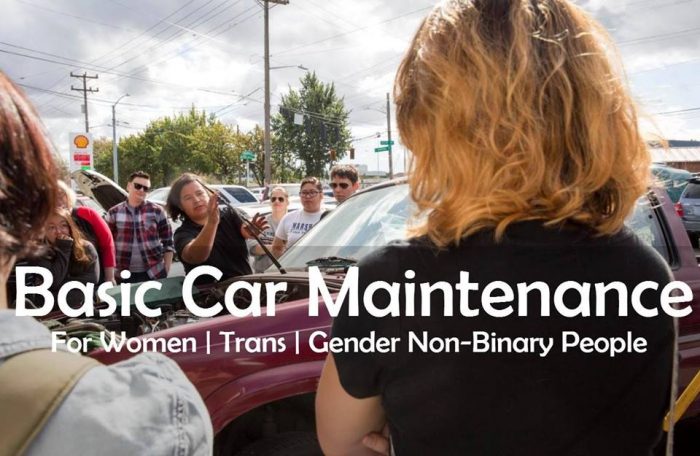 We love this story!
RIZE is the awesome recently created collective created by and for all women (CIS/TRANS/NON Binary) to network and take classes in all sorts of fields where women have traditionally been under represented including marital arts and auto mechanics which has been one of their popular classes to date.
They're offering a new Basic Car Maintenance class on Saturday, October 28th at noon and it's likely to fill up.
Here's more info:
Feel confident and empowered on the road and in the shop! In this class taught by Mariajose Barrera, owner of Mose Auto in Georgetown, students will learn vehicle fluids, checking wiper blades, tires, and the necessary tools for changing a flat.
Pay what you can! Sliding scale: $10|$15|$20
To register email info@rizeseattle.com.

RIZE is a center for women to network and take classes in fields where they are underrepresented. Whether a woman is interested in auto mechanics, martial arts, leading partner dance, or fitness, RIZE provides a safe space for them to expand their skills and support one another through Movement Arts and Trades classes. RIZE is welcoming of trans, and gender non-binary people.
Now, we need a version of this for clueless queer men because some of us are also in the dark when it comes to anything more complicated than hanging a new air freshener on the rear view mirror…
Tags: Basic Car Maintenance, Basic Car Maintenance for Women, RIZE