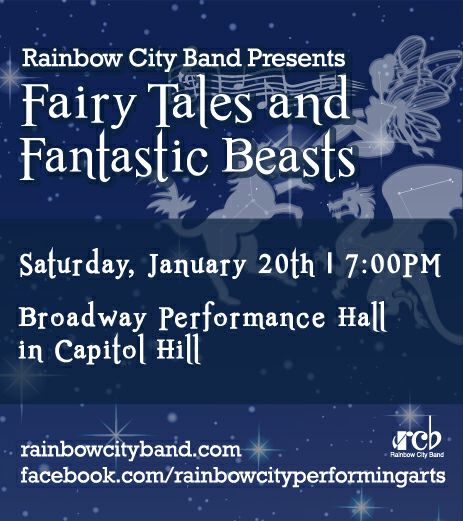 SEATTLE, WA – Rainbow City Band (RCB) is performing Fairy Tales and Fantastic Beasts, a concert exploring tales of the enchanting and magical, on January 20, 2018 at 7:00 p.m. at the Broadway Performance Hall on Capitol Hill in Seattle, WA.
"With this concert we want to take you on a journey exploring tales of the enchanting and magical. Creatures and their stories will jump off the page and show that sometimes the ostracized become the most influential and often times we may draw power from those very things that make us queer," says Tim Norris, Musical and Artistic Director.  "Together we'll travel through the looking glass and take time to enjoy the frivolity of the ride."
Among the featured pieces are Carnival of the Animals by Camille Saint-Saëns and Godzilla Eats Las Vegas! by Eric Whitacre.
The concert also includes performances by Purple Passion Swing Band, The Saxodies, and Flütrange.
RCB is also proud to recognize Lifelong in its Community Spotlight. Lifelong is a community health organization committed to empowering people living with or at risk of HIV and/or other chronic conditions to lead healthier lives.
RCB is comprised of 70 lesbian, gay, bisexual, transgender and allied musicians who volunteer their time to perform in the Seattle area. RCB is part of Rainbow City Performing Arts (RCPA) and has been performing music in the Seattle area since 1998.
Tickets are $20 for adults, $12 for students and seniors, and $5 for children under 10. They can be purchase from Brown Paper Tickets, https://www.brownpapertickets.com/event/3219792, or starting at 6:30 p.m. on the day of the concert.
RCPA is a 501(c)(3) non-profit group that provides opportunities for people who are lesbian, gay, bisexual, transgender, and allied to share their musical talents through public performances. They foster music education, friendships and community giving. In addition to RCB, RCPA also includes Purple Passion Swing Band, a marching band, and Renegayde Pep Band, among other ensembles.
More information about Rainbow City Band can be found at http://www.rainbowcityband.com and at https://www.facebook.com/RainbowCityPerformingArts.
Tags: Fairy Tales and Fantastic Beasts, Lifelong, Purple Passion Swing Band, Rainbow City Band