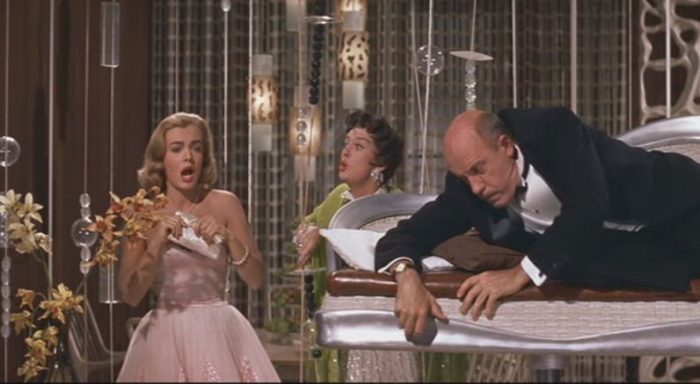 It's apparently Three Dollar Bill Cinema's most popular annual event….'cause they've been doing it for the last 47 years!
It's their annual holiday screening of the cherished 1958 film AUNTIE MAME, the campy classic comedy starring Rosalind Russell as everyone's favorite madcap auntie. It's happening Wednesday, December 12, 2018 at AMC Pacific Place with an after party at EVEN Hotel Seattle. (Snag tickets HERE!)
For those of you in the dark, Auntie Mame started out life as a best selling novel in 1955 written by Patrick Dennis, aka American eccentric Edward Everett Tanner III, a bisexual writer who led a most interesting life (after his huge success as a comedic writer in the 1950s and 60s, he worked as a butler in the 1970s, including a stint working for Ray Kroc, the CEO of McDonalds!) The tale of a young boy who is raised by his crazy aunt after his wealthy father dies, Auntie Mame herself was very loosely based on an oddball aunt of Tanner's.
Seeing that the character of Mame would make for an excellent role for herself, celebrated actress Rosalind Russell had her producer husband buy the rights to the hit novel and working with playwrights Jerome Lawrence and Robert E. Lee they crafted it into a hugely successful Broadway play in 1956. Russell naturally went on to star in the film version two years later but refrained from participating in the 1966 musical version, Mame starring Angela Lansbury which itself became a big hit which led to a rather disastrous 1974 film version starring a far too elderly and tone deaf Lucille Ball.
Fun Fact: Auntie Mame is one of the few literary properties that have made the journey from book to play to movie to stage musical to movie musical. Cabaret would be another example. (Chicago almost is: it was a play first, then a movie of the play, then a musical and a movie musical…it didn't start out life as a book. And The King and I was a novel, then a film, then a musical, then a musical film but was never a play.)
KNOWLEDGE IS POWER!
More knowledge about the Three Dollar Bill event!
An Evening with Auntie Mame
Wednesday, December 12, 2018 | 6:00 PM | AMC Pacific Place + EVEN Hotel Seattle
Don your gay apparel and join us for An Evening with Auntie Mame, a fundraiser for Three Dollar Bill Cinema!
6:00 PM | Screening of AUNTIE MAME at AMC Pacific Place | 600 Pine St.
8:45 PM | Holiday After Party at EVEN Hotel Seattle | 527 Fairview Ave N (21+ only)
Come make merry after the film with us at EVEN Hotel Seattle, where you will enjoy complimentary hors d'oeuvres, wine, beer, and cider. Signature jello shots featuring Tito's Vodka will be available for purchase. Golden Ticket, Wine Grab, and festive activities will make this evening a joyous occasion to kick off the holiday season.
GOLDEN TICKET
Donate $100 for a chance to win:
– Two (2) Roundtrip Tickets on Alaska Airlines
– 50,000 IHG® Rewards Points
Only 100 Golden Tickets will be sold! Golden Tickets are available for pre-purchase with event ticket and will also be available during the
party for purchase.