ASUW QSC 17th Annual DRAG SHOW
May 16, 2019 @ 7:30 pm

-

10:00 pm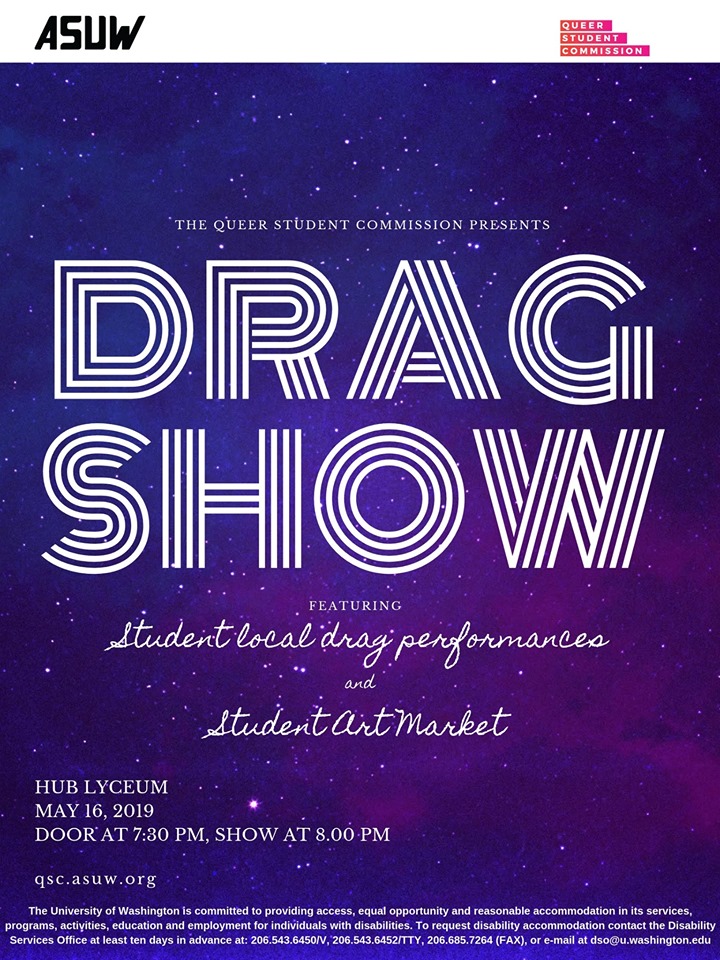 The ASUW Queer Student Commission is proud to present this year's ASUW QSC Drag Show! This historic event is a showcase of student and local drag performers from the UW and Seattle community.
doors 7:30, show 8pm
featuring a queer student art market! if you are interested in vending art, please fill out this form: https://docs.google.com/forms/d/e/1FAIpQLSf7opdkIGeiGSOXGTaBeUi1o3M94H6NqYqSG1eIDKWsIp4MkA/viewform?usp=sf_link
Directions
– The HUB is near landmarks such as Mary Gates Hall and Drumheller Fountain. For a map, search HUB on the campus maps:http://www.washington.edu/maps/
– University District Metro Bus Routes can be found here: http://metro.kingcounty.gov/tops/bus/neighborhoods/university_district.html
– Driving directions can be found at: https://www.google.com/maps/place/Husky+Union+Building/@47.655762,-122.3076257,17z/data=!3m1!4b1!4m2!3m1!1s0x5490148d64534c71:0xc91793fd02335246
– The Central Plaza Parking Garage is the largest parking lot to the close to the HUB. Accessible parking is available in the lot located next to the HUB. Additional information can be found at:
https://www.washington.edu/facilities/transportation/park
– There is also potential street parking surrounding the campus, on 15th Ave, University Way, and Brooklyn Ave.
———-
Accessibility
– We are in the process of securing CART captioning for the event.
– The HUB front entrance is wheelchair accessible.
– The HUB Lyceum is located on the first floor, to the right of the entrance. It is a reception space, with overhead and natural lighting. There are large windows on the right side wall of the Lyceum.
– All gender restrooms will be available on the first floor of the HUB on the night of the event. There is also an all gender restroom on the third floor of the HUB.
– The HUB is not kept scent-free but we ask that you do not wear scented/fragranced products (e.g. perfume, hair products) or essential oils to/in the HUB in order to make the space accessible to those with chemical injury or multiple chemical sensitivity. We will have baking soda and scent free soap available if folks are asked to wash off scents.
For more information about MCS and being fragrance free:
http://billierain.com/wp-content/uploads/2010/02/Myths-and-Facts-About-Chemical-Sensitivity.pdf
– To request disability accommodation contact the Disability Services Office at least ten days in advance at: 206.543.6450/V, 206.543.6452/TTY, 206.685.7264 (FAX), or e-mail dso@uw.edu.
– If you have questions, concerns or accessibility details that were not addressed here email asuwqsc@uw.edu!
All updates concerning the event and its accessibility will be posted here.
Related Events