Atelier: CABO Release Party – Seattle
November 16, 2018 @ 10:00 pm

-

2:00 am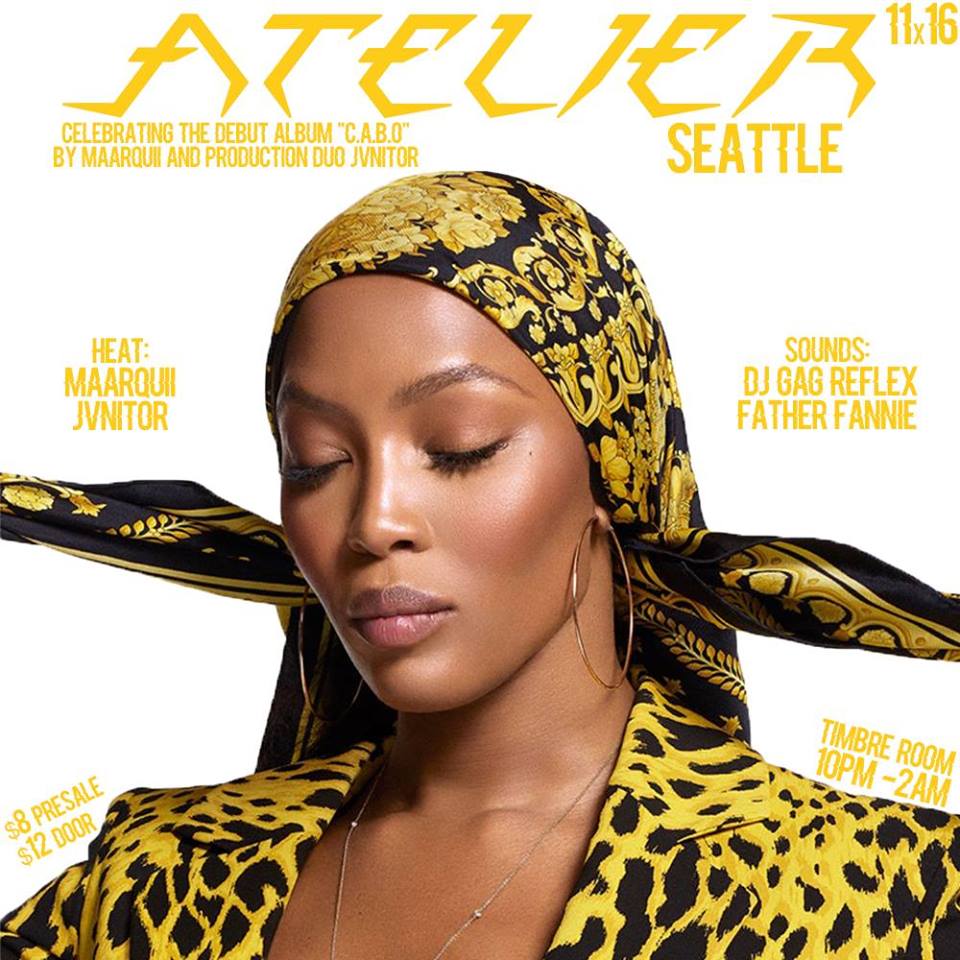 We invite you all to come celebrate the release of "C.A.B.O" the debut album by Portland MC Maarquii, with production by the incomparable duo JVNITOR.
TIX: TIX: bit.ly/AtelierSEA
On the decks:
Gag Reflex + FatherFannie
Special Guest: Guayaba
MAARQUII bio:
MAARQUII- A high femme multi-disciplinary artist who raps, sings, dances and is the embodiment of the proverbial "triple threat." After traveling in their youth from El Dorado, Arkansas to Tillamook, Oregon, they eventually found their place in Portland's underground queer scene, performing as a backup dancer for Chanti Darling, and participating in local dance companies.
In 2016 they met PDX production duo JVNITOR, a meeting that would spark their creative relationship and lead to their debut EP "Heavy Petty", as well as 2017's follow up EP "Lullaby in Gemini,"and now their debut album "C.A.B.O". Over crushing dance, hip hop, and industrial leaning beats, ethereal soundscapes and soulful R&B influenced melodies MAARQUII is able to seamlessly transcend genre with a charismatic confidence and unflinching openness that
is unmatched by their contemporaries
Friday, November 16th
Doors 10PM
$8 Advanced Tickets
$12 Day of Show
===========
Timbre Room
1809 Minor Ave
Seattle, WA
21+
===========
Timbre Room does not tolerate bigotry, sexism, homophobia, transphobia, racism, misogyny, ableism, or any discriminatory actions. Security is strictly enforcing these rules, and those who do not abide by these rules will be told to leave.
Timbre Room is ADA accessible with a ramp to the front door/bar area, and access to the back door/dance area through the patio area, and 2 accessible gender neutral restrooms available. If you have any questions about the safety or accessibility of this venue, please email info@timbreroom.com
Related Events