BLOOM ft. Mx. Silkman & IVVY
May 4, 2019 @ 10:00 pm

-

2:00 am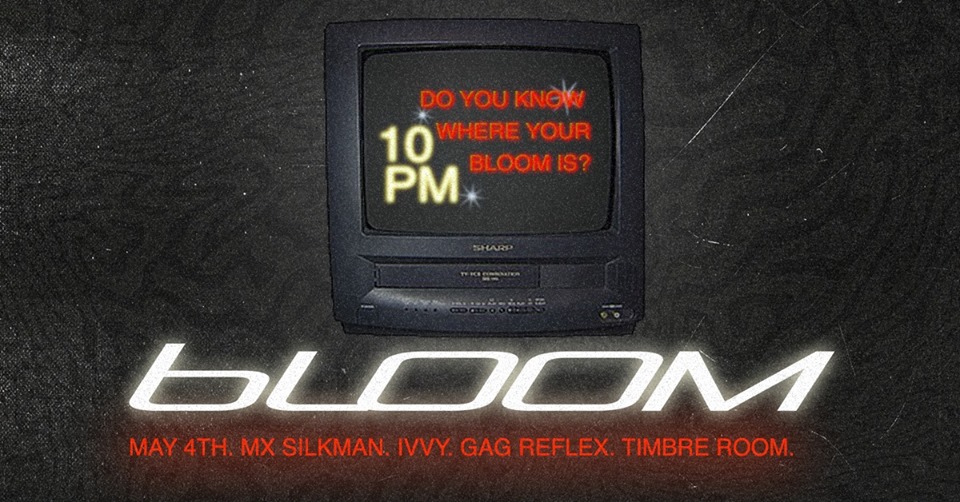 A cerebral sonic experience, we welcome you to expand your petals and reach towards the unknown. On this night, we welcome you to BLOOM.
BLOOM is a techno-oriented and genre-spanning engagement, featuring very special guests with support from resident selector Gag Reflex.
For this next installment of BLOOM, we welcome:
Mx. Silkman (IN TRAINING, Cleveland)
Soundcloud.com/mxsilkman
Soundcloud.com/auton1312
Residentadvisor.net/DJs/MxSilkman
Mx. Silkman is a co-founder and resident of the queer electronic music collective IN TRAINING. Her DJ sets feature deep waves of acidic paranoia-tinged psychedelia, cosmic angst-driven dub and sparse execution of skeletal forms within post-industrial dance music. In addition to her role as a selector, she also produces off-kilter techno and industrial music as Auton, a project with releases out on Jacktone and (forthcoming this spring) Left Hand Path, aimed at the multimedia exploration of insurrectionary moments of rupture.
IVVY
https://www.residentadvisor.net/dj/ivvy
As a key figure in Seattle's hardware renaissance, producer Madi Levine (they/them) is keeping their love of hard techno alive as IVVY, a project giving form to their interpretation of visceral and punishing, warehouse-fitting performances. IVVY's live sets invoke the spirit of renegade parties and have supported a slew of regional and international DJs and live acts, with releases on local electronics labels MOTOR, Jungle Gym Records and Medical Records' sub-label, Transfusions.
IVVY's relentless live PA has earned them features with many N.A. crews, including Surface Tension (SF), Bodyheat (VAN), Vague Output (BAL), Fine Time (LA), and In Training (CLE), as well as festival sets at Gays Hate Techno Spring Gathering 2018, Okeechobee Music + Art Festival 2017 and Upstream Music Festival + Summit 2017.
Levine is also a staunch proponent of non-binary/trans representation in dance music and inclusiveness in music communities. They have been featured on RBMA in 2018 and has previously lectured on live electronic performance for Evlv Tech in Cambridge, MA and the University of Puget Sound in Tacoma, WA.
Bloom Resident:
Gag Reflex (TUF)
www.soundcloud.com/djgagreflex
Saturday, March 2nd
10PM
$8 at the Door or $6 w/ Night Crush Stamp
— — — — — — — — — —
Timbre Room is ADA accessible, with a ramp to the front door/bar area, and access to the back door/dance area through the patio area, and 2 accessible gender-neutral restrooms available.
If you have any questions about the safety or accessibility of this venue, please email info@timbreroom.com
Related Events