Cathedral [KW 5 YR]
February 16, 2019 @ 10:00 pm

-

2:00 am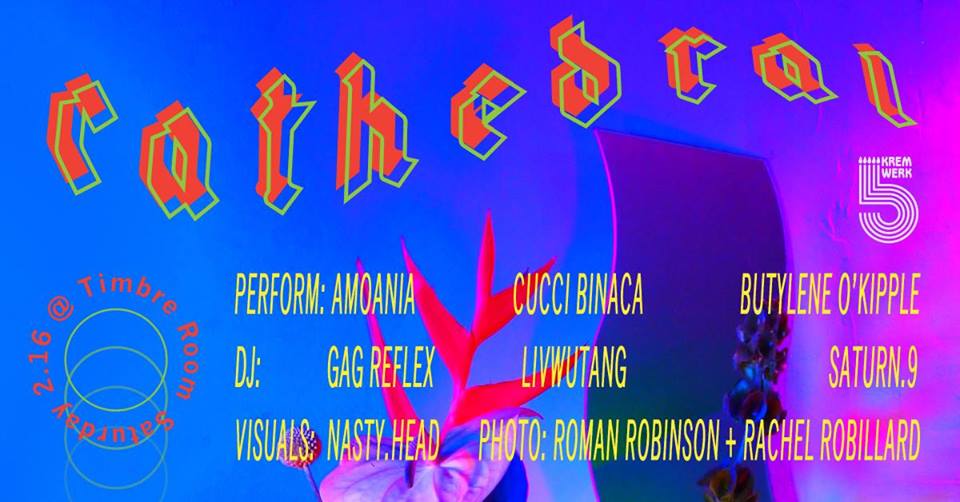 Kremwerk proudly presents 5 years of queer parties featuring:
CATHEDRAL
🌺 TIX: bit.ly/CathedralKW5 🌺
CATHEDRAL is back for one night only, featuring an incredible line-up of talented local performers, artists & DJs to guide you through a very special evening — see you on the dance floor!
CATHEDRAL debuted at Kremwerk in 2014 with the goal to create a monthly queer party devoted to freaks & their friends that worked to challenge the traditional notions of drag/drag performance. Featuring some of the greatest artists, performers & DJs working up-and-down the West Coast, we feasted our eyes on the incontestable beauty expressed through drag/transformation by those that attended our events. We danced all night and we can't wait to do it all over again! xo
WE LOVE YOU!
::PERFORMERS
-Amoania
-Cucci Binaca
-Butylene O'Kipple
::DJs
-Gag Reflex
-LivWuTang
-Saturn.9
::VISUALS
-Nasty.head
::PHOTOS
-Roman Robinson
::PHOTOBOOTH INSTALLATION
-Rachel Robillard
🎂🎂🎂🎂🎂🎂🎂🎂🎂🎂🎂🎂
Saturday, February 16th
10PM
EARLY BIRD $5 | ADV $8 | Door $12 | Combo ADV $15 w/ KW 5-Year All Night ft. Patrick Russell & Beta Librae | Combo Door $20
🎂🎂🎂🎂🎂🎂🎂🎂🎂🎂🎂🎂
Timbre Room
1809 Minor Ave.
Seattle, WA
http://timbreroom.com/
21+
🎂🎂🎂🎂🎂🎂🎂🎂🎂🎂🎂🎂
Timbre Room does not tolerate bigotry, sexism, homophobia, transphobia, racism, misogyny, ableism, or any discriminatory actions. Security is strictly enforcing these rules, and those who do not abide by these rules will be told to leave.
Timbre Room is ADA accessible with a ramp to the front door/bar area, and access to the back door/dance area through the patio area, and 2 accessible gender neutral restrooms available. If you have any questions about the safety or accessibility of this venue, please email info@timbreroom.com
Related Events