Dungeons & Drag Queens Versus the Lizard People!
August 28, 2019 @ 7:00 pm

-

10:00 pm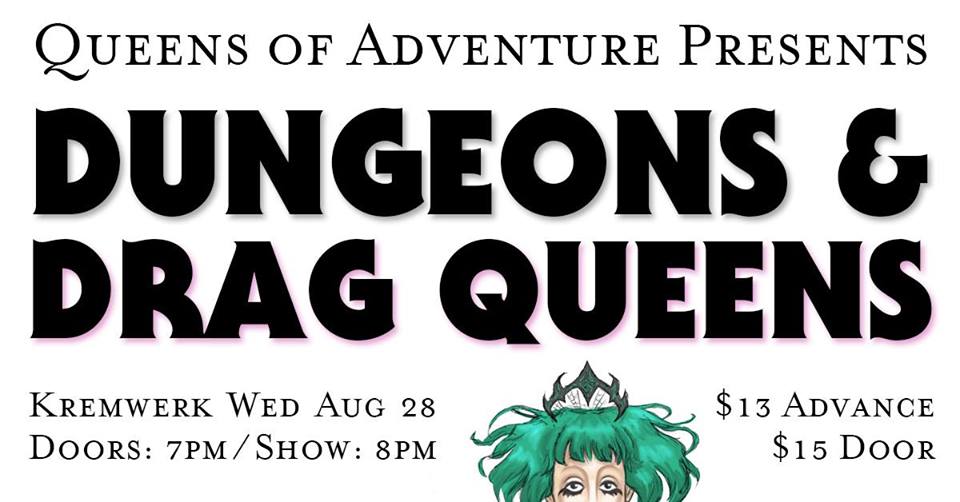 Dungeons & Drag Queens Versus the Lizard People!
Dungeons & Drag Queens returns to Kremwerk for its 3rd annual PAX-adjacent live show!
A party of fabulous drag artists embark on an all-new role-playing comedy adventure, played live on stage for one night only! This time our heroes venture to a swampy settlement where the basements aren't all that's flooded. This village is overrun by sashaying serpents, luscious lizards, and a ravishing reptile goddess.
Cozy up to a bearded dragon and chat up some trouser snakes at the show that serves death drops, death saves, and drink specials to die for!
Arrive early for seating!
Geeky drink specials all night long!
Come in costume for a chance to change the fate of the queens!
🛡Arson Nicki
👠 Butylene O'Kipple
💄Fraya Love
🦂 Londyn Bradshaw
🦎 Special appearance by Irene Dubois!
🐶Bolt as the Dice Boy
🎲Matt Baume as the Dungeon Master
$13 Advance, $15 Day of Show
Tickets: bit.ly/DungeonsandDragvsLizardPeople
Date: Wednesday August 28
Door: 7pm
Show: 8pm
==
Kremwerk strives to be a safe space. The following actions or display of behavior will not be tolerated: bigotry, racism, sexism, transphobia, homophobia, misogyny, ableism, as well as the disrespect of the rules of consent. Our staff is here to support you.
Kremwerk is currently not an ADA accessible space. Club entry is through a flight of 12 metal stairs, with two small steps leading into the main part of the club. We have 2 restrooms with a total of 3 stalls and 1 urinal, all gender neutral. If you would like access to single-stall restrooms, please don't hesitate to ask our door & security to allow entry upstairs into Timbre Room, which has 2 single-stall gender-neutral restrooms.
For any questions about safety & accessibility, please email info@kremwerk.com
Related Events