FP Presents: Chasms w/ Somesurprises & Dead Spells
March 13, 2019 @ 8:00 pm

-

11:00 pm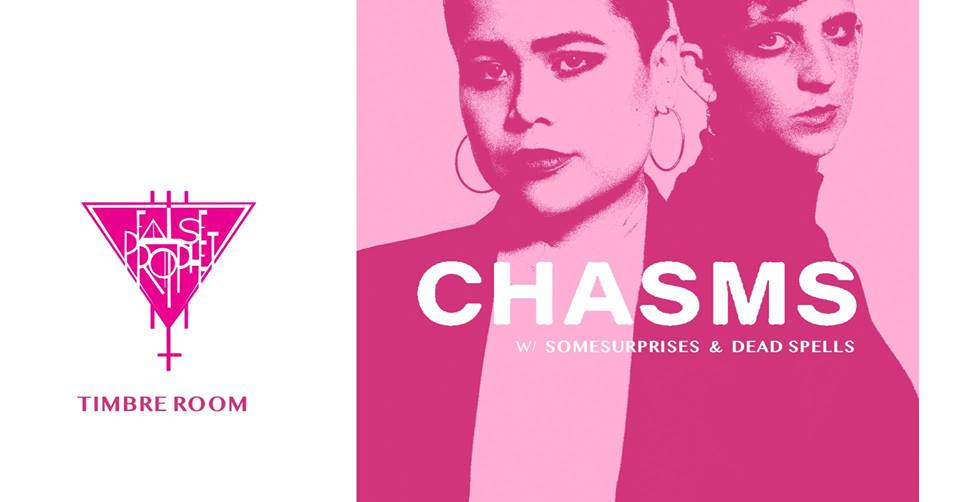 FALSE PROPHET is back and pleased to present the first show of 2019. Co-presenting with Timbre Room present we invite you to:
Chasms
Chasms was formed in 2011 by Jess Labrador and Shannon Madden. Following 2016's 'On the Legs of Love Purified' and the recent "Divine Illusion" single, 'The Mirage' pushes the band's ethereal sound into the murky depths of dub. Marking a sonic shift for the project, 'The Mirage' finds the duo trading in chaotic bursts of noise for understated minimalism that's still characteristically melancholic and potent with emotion. Labrador's drum production is as deft as ever with an expanded range of electronic samples and tape-delay-induced polyrhythms. Layered with Madden's persistently dubby bass, Labrador's sparse guitar and gliding soprano float above a labyrinth of hypnotic sequences. These dub-laced dirges signify growth within the band, heard in their command of repetition, space, and effects to build a pervasive mood that's often utterly heartbreaking.
With support from…
somesurprises
Seattle's somesurprises shifts from bedroom tapes to the recording studio with a 21-minute, 3-track EP. Their first release since the widely-loved "serious dreams" on Eiderdown Records, "Alt" features a variety of new sounds not previously heard on the band's recordings.
Dead Spells
death sounds
—————–
Wednesday, March 13th
8 – 11 PM
ADV $10 | Door $12
—————–
Timbre Room
1809 Minor Ave.
Seattle, WA
http://timbreroom.com/
21+
—————–
Timbre Room does not tolerate bigotry, sexism, homophobia, transphobia, racism, misogyny, ableism, or any discriminatory actions. Security is strictly enforcing these rules, and those who do not abide by these rules will be told to leave.
Timbre Room is ADA accessible with a ramp to the front door/bar area, and access to the back door/dance area through the patio area, and 2 accessible gender-neutral restrooms available. If you have any questions about the safety or accessibility of this venue, please email info@timbreroom.com
Related Events