Haunt & Gather w/ Felix da Housecat
October 25, 2019 @ 10:00 pm

-

October 26, 2019 @ 4:00 am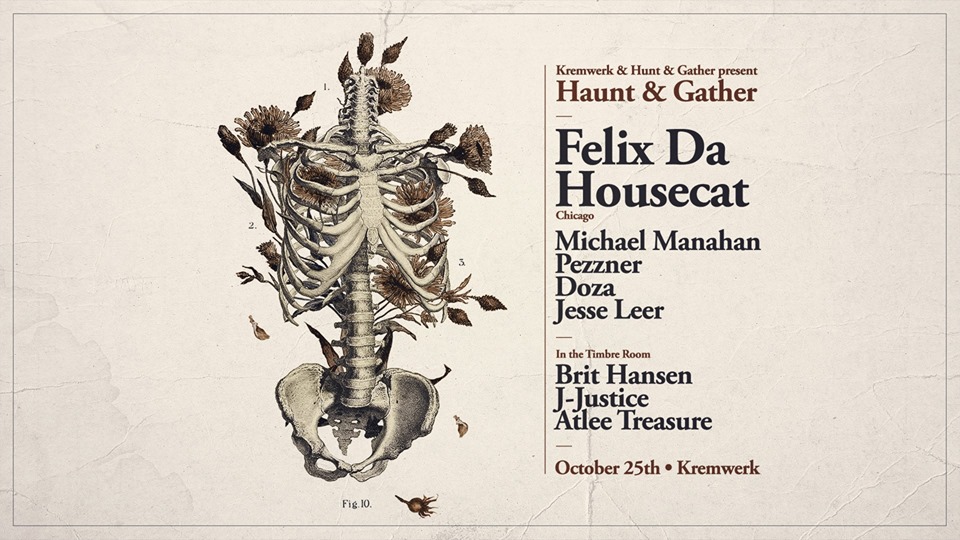 Hunt & Gather and Kremwerk are over the moon to present two rooms of the most hauntingly curated music with…
🏠😼🎃 FELIX DA HOUSECAT 🏠😼🎃
www.theefelixdahousecat.com
www.twitter.com/Theerealfdhc
www.facebook.com/felixdahousecat
www.soundcloud.com/felix­da­housecat
When people lament about the history of house music, the focus always shifts to Chicago. Felix, as a member of the Chicago's second wave of house, is known more recently by his remix works for Passion Pit, The Chemical Brothers, Garbage, Gwen Stefani, MIke Snow, Mylo, Nina Simone, Petshop Boys, New Order, Fisherspooner and hundreds more.
The importance of his foothold in Chicago's 90's house music scene is underscored by his own label, "Radikal Fear Records" early releases by artists like DJ Sneak, Armando and Mike Dunn, but in the 2000's, it was his collaborations with Miss Kittin, Tommie Sunshine, Junior Sanchez and Junior Jack that pushed Felix into the mainstream. His 2001 Kittenz and Thee Glitz earned him best Album by the massive "Muzik Awards" helping to define the "Electroclash" genre and sent him on to remix hits for Madonna, Britney Spears and Kylie Minogue.
Support from your Hunt & Gather team…
MICHAEL MANAHAN

PEZZNER

DOZA

And Special Guest…
JESSE LEER

🌳 Upstairs in Timbre Room…
BRIT HANSEN

J-JUSTICE

ATLEE TREASURE
………………………………………
Sign up for the Kremwerk + Timbre Room Complex mailing list on our website, to stay in the loop about upcoming events, ticket giveaways and more!
http://www.kremwerk.com/
………………………………………
Kremwerk strives to be a safe space. The following actions or display of behavior will not be tolerated: bigotry, racism, sexism, transphobia, homophobia, misogyny, ableism, as well as the disrespect of the rules of consent. Our staff is here to support you.
Kremwerk is currently not an ADA accessible space. Club entry is through a flight of 12 metal stairs, with two small steps leading into the main part of the club. We have 2 restrooms with a total of 3 stalls and 1 urinal, all gender-neutral. If you would like access to single-stall restrooms, please don't hesitate to ask our door & security to allow entry upstairs into Timbre Room, which has 2 single-stall gender-neutral restrooms.
Timbre Room is ADA accessible with a ramp to the front door/bar area, and access to the back door/dance area through the patio area, and 2 accessible gender-neutral restrooms available.
For any questions about safety & accessibility, please email info@kremwerk.com.
Related Events