Keefee's House of Cards – You put your Karaoke in my Blackjack!
May 2, 2019 @ 8:00 pm

-

10:00 pm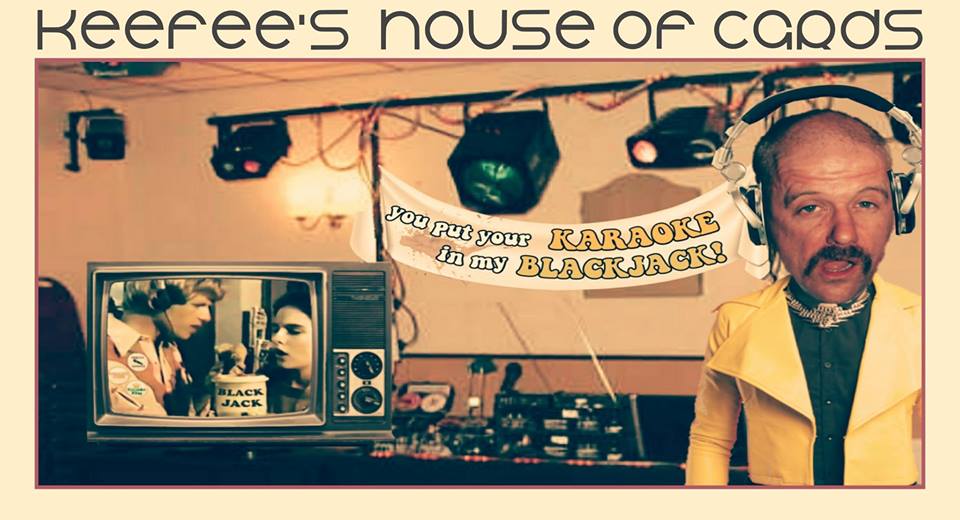 It's a Karoke Blackjack party and you are invited. It's the show you know and love with rounds of blackjack added for those who want to play to win a chance to sing their hearts out. Plus MERCH to win and buy. xo
"Keefee Nicks embodies the joyous and melancholy beauty of the human condition and the evening was full of crass and sublime moments. This is the type of thing the world needs more of and I recommend that you all seek out this wonderful thing that happens every 1st thursday of the month in the basement of the Rendezvous."- EMMETT MONTGOMERY
Imagine that the Late Late Show (w/Craig Ferguson) and Pee Wee's Playhouse got drunk together one night and played blackjack….then kept on drinking and ended up making a baby together. Keefee's House of Cards would be that baby..
"(Stephen Hando) spends the entire show as the titular character, a hilarious, emotionally erratic blackjack dealer from Tallahassee. Last month, from the moment Keefee arrived on stage dancing excitedly in Daisy Dukes to muffled music from an uncooperative PA system, I could tell I was in for something special.- Travis Vogt, CityArts
(read the full interview) http://www.cityartsmagazine.com/man-who-would-be-keefee/
Keefee's House of Cards is an improvisational, interactive, blackjack theater experience that takes place on the 1st Thursday of every month.
During the show, Keefee and four audience members will sip cocktails while they play blackjack and chat and this hilariously unpredictable evening will go wherever it wants to go. Nothing is pre-planned and literally anything could happen.
Join the Player's Club and play with Keefee on stage or you can sip a cocktail and watch the action from the comfort of your "General Admission" seat. Whichever way you go, smart money says Keefee's gonna show you a good time. (Just to keep the Gambling Comish' off our backs, let's be very clear. No money is won or lost. It's all for pretend.)
NOTE- Liquor will still be served so audience is restricted to those 21+.
Related Events