Lusio. A Night to Awaken
August 12, 2017 @ 8:00 pm

-

11:00 pm
Event Navigation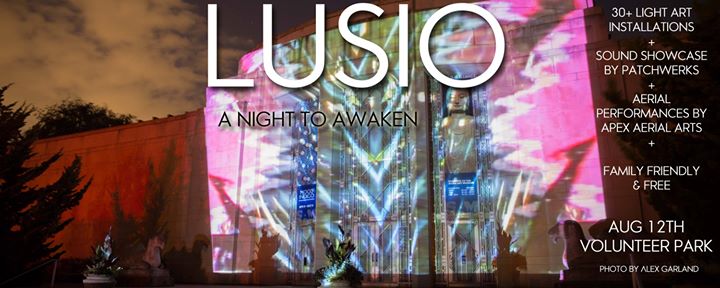 LUSIO IS BACK!
Please join us with all of your friends for another FREE and FAMILY FRIENDLY evening of light, sound and play!
RSVP AND INVITE EVERYONE YOU KNOW TO THIS FREE EVENT SO THEY CAN ENJOY THE MAGIC TOO!
______________________________________________
As the sun sets on August 12th, Volunteer Park will slowly come to life and "awaken" with light and sound once again.
The evening begins at the amphitheater at approx 8:30pm with an ambient musical showcase and opening [performance by Apex Aerial Arts and Patchwerks.
This will "awaken" the entire event with beautiful, deep, natural sounds to delight the auditory senses. The rest of the park will slowly come alive in light as the sun sets. Explore Volunteer Park like you've never experienced it before. !!
__________________________
Wander. Relax. Play. Wonder.
____________________________
30+ Light Installations of all shapes, sizes and formats will be set throughout Volunteer Park for you to explore including art like…
Live Video Projection Mapping of the Seattle Asian Art Museum and the Volunteer Park Conservatory
Interactive Light Art (touchable, sound reactive, kinetic..)
Video Mapped Aerial perfiormances by Apex Aerial Arts
Live Modular Ambient Sound Showase by Patchwerks
A shadow puppet theater
A LED dance floor
Solar powered sculpture art|
Cushy "chill zone"
Old School live liquid light painting (60's style)
and so so much more!!
http://www.lusiolight.com/
ARTISTS
http://www.lusiolight.com/artist-gallery
_________________________
Want to have a drink and dance before the show? Join us at the Volunteer Park Conservatory for the 21+ event, Lush Sounds Vol. 3 from 7-10pm!!
KEXP dj's Riz and Kid Hops will be mixing some summer tunes while the sun sets. AND Lusio will projection map onto the conservatory once the sun sets!! This might sell out so RSVP and get there early!
https://www.facebook.com/events/1495940020468769/
__________________________________________
LAST YEARS LUSIO
http://www.capitolhillseattle.com/2016/07/chs-pics-what-the-lusio-light-art-festival-in-volunteer-park-looked-like/
https://vimeo.com/177189836
https://vimeo.com/178290408
http://www.lusiolight.com/
________________________________________
"How to experience Lusio?"
Lusio is meant to be playfully experienced in 2-3 hours and is FREE family-friendly, open to all, and for one night only.
Be prepared to wander and explore the corners of the park to find the art living under trees and in the gardens. Lusio is fully intereactive, family friendly, community driven event so participation is key!
**Playfully**
Show up around 7:30 to grab a spot on the lawn in front of the amphitheater for optimal relaxation. Got a crazy glowing outfit to wear? BRING IT! Dress in your most glowing, LED, light up attire to get into the spirit and contribute to the whole atmosphere! Wrap your dog in L-wire and let your kids wear all the sticks they can handle. Bring your LED hulu hoops to show off those hoopin skills.
**Thoughtfully**
Please help us leave the park as pristine as we found it by picking all all trash, using the proper recycling bins and not smoking on park property.
Please no fires, fire spinning, rouge art, vending, sound/speakers. Pack it in, pack it out!
NO RENEGADE ART PLEASE!!
These artists worked super hard to be part of Lusio and are dedicating a lot of time and money to participate. A years worth of curation and planning go into every detail of Lusio, and expecially where each peice is placed.
Please respect the artists and leave those awesome rogue installations at home. Don't worry, you can apply for next years Lusio 🙂
_____________________
—-GET INVOLVED—–
_____________________
CALL FOR VOLUNTEERS
http://www.lusiolight.com/getinvolved
We will need volunteers for art sitting, Lusio booth, set up, break down, and show prep. Super fun and easy way to see Lusio in action. 😀
If you would like to donate to help support Lusio, you can email a donation via paypal to mokedophoto@gmail.com or email lusiolight@gmail.com for other ways to donate.
ARTISTS
________
Amber Barney-Nivón
Amber Whittenberg
Art of free energy
Brian Immel
Brooke Fotheringham
Bryan Ressler
Cindy Riechel (music)
Liquid Light Wizard
Gael Maxey
Jen Tasara Stone & VJ Kaizen
Jeremy Winters
Joe Griffith
Josh Lind
Joshua Chin
Jonathan Womack
Kirtsen Mohan
Marcell Marias
Marcie Mccabe
Mokedo
Potluck
Briar Bates & Bryan Ressler
Rahikka
The Rainbow Serpent
Randy Garbrick
Robert Falk
Robin Nunnally
Robin Mallory
r.beny (music)
Apex Aerial Arts
Glow Fi Art
Scott Keva James and Greg Bowman
Totally Legit
Sean Carleton
Spacefiller
Trina Cooper
This project was supported, in part, by an award from 4Culture. Thanks 4Culture!!
Thanks to Immersive Square for helping power the evening by providing support for the generator rentals!
"Immersive Square is a Seattle start-up aims to bring positive virtual reality immersion to the general public by enabling affordable, local and personal curations."
https://www.facebook.com/immersivesquare/
http://www.immersivesquare.com
Follow Mokedo on FB which is the gallery version of Lusio!
https://www.facebook.com/mokedostudio/