Make Out Party 4 Yr Anniv w/ Bottom Forty & Vancouver Takeover!
May 11 @ 9:00 pm

-

2:00 am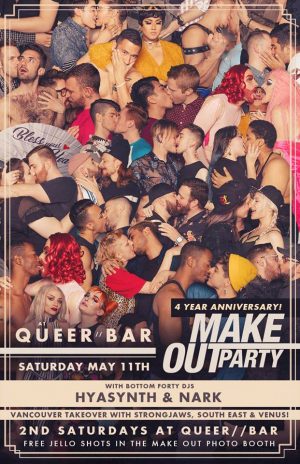 Come celebrate 4 years of bringing babes together face first and slinging out more jello than Kraft Foods in the 90s, jump in the booth for your babely make outs, get your free jello shots, watch in awe and possibly disgust as South East and Venus perform, feel weak in the knees as Strongjaws works the bar top in an appropriately inappropriate lack of clothing and more!
DJ's——
BOTTOM FORTY
NARK + HYASYNTH
VANCOUVER TAKEOVER!—–
w/ host and performers SOUTH EAST & VENUS
and gogo mega babe STRONGJAWS
GUEST HOSTS / MAKE OUT FODDER
Anderson Arifin + Antony Tran
+every person you ever wanted to make out with ever all in one place
Photobooth by Nark Magazine / Roman Robinson
Free shots in the booth! booze and photographic ones!
SATURDAY 5.11
QUEER BAR
1518 11th ave
9PM
2nd Saturdays
It's time to stop flappin' your lips and start smackin' them 2nd Saturdays at Queer Bar, tired of standing around looking pensive but warm, fierce but approachable, and yet that mega crush of yours still hasn't come up to you? All you gotta do is go up and be all like- "hey, wanna make out with me for a photo? you get a free jello shot" and they go "um yes duh" and then the rest is drunk history. [PS, Making out is for everyone, and everyone is welcome, jello does not discriminate]. It's the party that asks the question- "Who's in my mouth!?"
Related Events