Matthias Meyer [Berlin] Open to Close Set
September 27, 2019 @ 10:00 pm

-

2:30 am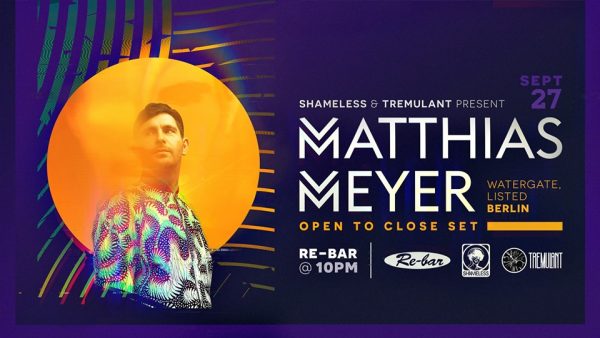 Shameless X Tremulant Presents
Matthias Meyer (Watergate, Listed, BERLIN)
Open to close set!
Shameless & Tremulant are teaming up to bring Seattle a very special open to close set featuring Watergate Resident Matthias Meyer.
Live Visuals by
C.M. Barth
Nick Bigelow
9/27, 10p-close
——————————
About Matthias Meyer:
Long time Watergate resident Matthias Meyer embarks on a momentous summer schedule this year propelled by some career defining moments of late. On the music front, he has continued his quality approach with a small number of high impact releases in recent times including the Beatport Deep House number 1 'Hope' alongside Ryan Davis on his beloved Watergate Records and the Pete Tong endorsed remix of Butch – 'Shahzrad' (which made his BBC Radio 1 Tunes of the Year list alongside many established luminaries). These releases join a stellar discography which includes fan favourites such as 'Reichanbach', 'Tout Va Bien', 'November Rain' and of course, 'Infinity'.
The past few months on the road have also provided some poignant moments for Meyer with visits to the likes of Tobacco Dock, Liverpool's Circus, Fabrik – Madrid, Rex Paris, Cityfox in New York and of course the renowned Stereo in Montreal. Another of his highlights on the road was a memorable trip to Brazil, playing D-Edge and Warung to universal acclaim. Alongside this the German also found time for a number of pivotal festival appearances (Strawberry Fields in Australia proving to be a particular highlight) and performances at both the Mixmag Lab and Boiler Room, Berlin.
Following on from his well-received residency at Pacha, Ibiza alongside Hot Since 82 last year, Meyer will return to the landmark venue once more this summer as well as venturing further afield to play Ibiza bastions Hï and Heart.
With a style that ranges from uplifting and orchestral to deep tribal grooves, the Berlin based selector will continue to showcase his diverse talents globally throughout the rest of 2018, kicking off the summer with a considerable European tour before his long awaited return to the white isle. Meyer looks set to finish this year just as he started it, with an action packed schedule focused around an expansive US tour.
——————————
About Shameless:
Shameless was established in 2003 in Seattle, starting off as a weekly underground dance night in the basement of the Alibi Room. Since then, a lot has happened.
——————————
About Tremulant:
We are not of this world. We are celestial bodies traveling many parsecs across innumerable galaxies throughout multiple solar systems. We are Tremulant.
This blue planet, full of carbon based life forms, teeming with oxygen has lured us in with its beauty and abundance. With us, we bring an interstellar vibration those on this planet call music. These frequencies of mind altering substance move you in a way that is pleasing to us and endows those who are Tremulant with an energetic resonance that expands through the universe. You must join us on a cosmic journey in an extra galactic setting where all space and time will become irrelevant… Tremulant Can Help.
——————————
About Rebar:
Opened in 1990, this iconic Seattle venue hosts underground music, fringe theater, poetry slams, game shows, LGBTQIA focused events, live shows, and private events. From Nirvana to Peanut Butter Wolf, from Riz Rollins to Max Cooper, and from Hedwig to Dina Martina, the Re-bar presents the cutting edge of raw art in Seattle. Music. Theater. Dancing. Re-bar welcomes: All Races, All Abilities, All Genders, All Spiritual Beliefs, All Nationalities, All Loving Beings.
Re-bar 1114 Howell St Seattle WA 98122
www.rebarseattle.com
21+w/ID
ADA Accessible
Related Events