Misfits and Monsters #2
October 31, 2018 @ 9:00 pm

-

11:00 pm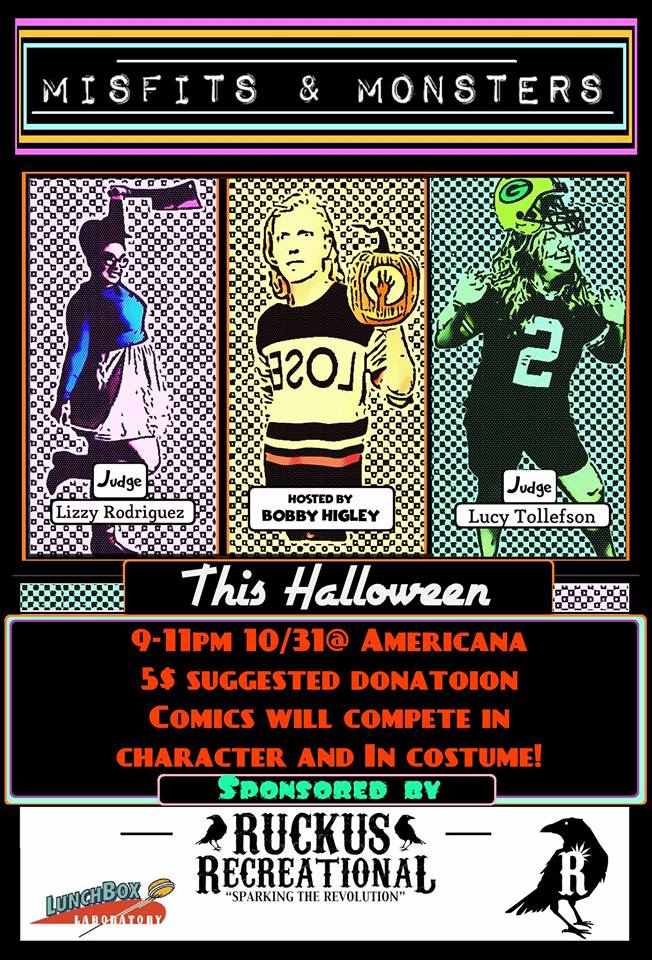 This Halloween at Americana on Broadway. Gutter Twink Productions, with the blessing and sponsorship of Ruckus, are bringing you a Halloween costume competition with a terrific twist! All the competitors are IMMENSELY talented Seattle comics!!
(You:) "Dear God!!! That sounds so like a Hoot AND a Holler!"
(ME:) "I know! BUT WAIT, there's an even twistier twist!!!"
They will be doing full comedy sets & a Q&A -In Character-
The panel consists of your host & local comic:
Bobby Higley. Who is writing this, so you've probably got a feel for me by now 😛
Elizabeth Rodriguez. The queen of Seattle's underground bingo scene. A throne she rules ruthlessly. The tyrant Madonna.
Lucy Tollefson. A talented local comic and producer, a transplant from a far and distant place called "Wisconsin." As sad as she is funny, or maybe the other way around.
And the hooligans competing are:
Sally Jordan – Finn Cottom – Isaac Campbell-Smith – Dan Hurwitz –
Richie Aflleje – Alayna Becker
5$ donation at door, with all the pooled cash going to the top two comics!!
Related Events