Transgender Day Of Resistance and Remembrance 2018
November 20, 2018 @ 5:30 pm

-

9:00 pm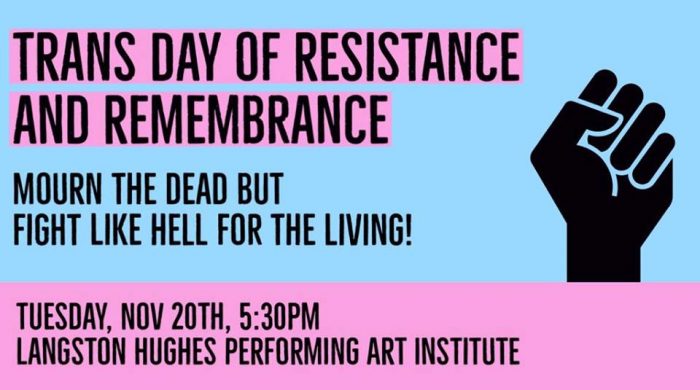 Trans Day of Resistance and Remembrance
"Mourn the dead, and fight like hell for the living!"
Trans Day of Resistance and Remembrance
"Mourn the dead, and fight like hell for the living!"
In light of the most recent waves of attacks on trans people, there is a growing urgency within the queer and trans community, as well as the wider left, to develop a strategy to fight back against these vicious attacks. PFLAG, UAW 4121, Seattle Democratic Socialists of America, Socialist Alternative, Councilmember Kshama Sawant's office, and Mac McGregor, community leader and organizer of Trans Day of Remembrance, are coming together to host a very special Trans Day of Resistance and Remembrance. We will have a panel discussion of trans leaders and activists to discuss a strategy to defeat Trump's right-wing agenda and inform folks in the trans and gender non-conforming community about how to best protect themselves and their families against the effects of this proposed policy. This will be followed by the Trans Day of Remembrance ceremony to honor and celebrate those who gave their lives to this struggle. Ryannah Quigley will be joining us as this year's keynote speaker. Join us this Trans Day of Resistance and Remembrance, for we must mourn the dead, but also fight like hell for the living!
On October 21st the New York Times released an article detailing the contents of a leaked memo from the Department of Health and Human Services which seeks to redefine gender to exclude trans, non-binary, and intersex people. If trans people are stripped of Title IX protections, we will become open targets to transphobic attacks. If this new definition is adopted by the Labor Department, trans workers will be unable to defend themselves against discrimination in the workplace. The Department of Justice has already advised the Supreme Court to rule against these protections for trans people, which paired with the new definition of gender, would set a precedent of denying trans people their basic civil liberties. This new definition will legitimize transphobia, just like Trump's policies around immigration embolden racists and xenophobes.
We need to build a mass movement that rejects these attacks but also fights to extend the rights of trans people, who already face widespread discrimination. Here in Seattle, we have the opportunity to demand City Hall to take action against Trump's attacks. We can also work through our trade unions to take a clear stand for workplace protections for trans coworkers, as academic workers of UAW 4121 have done. And we can prepare for the kind of mass protest and direct action that will be needed when Trump pushes forward with his attacks.
The most pressing issues that face the trans community are not isolated to just trans people; they are issues that impact all working and oppressed people under capitalism. We need high quality, publicly owned, affordable housing! We need Medicare for all that fully covers gender-affirming surgeries and hormone replacement therapy! We need quality, high paying jobs with strong workplace protections! We need democratic, community oversight of the police! Join us on November 20th from 5:30 PM to 9:00 PM at Langston Hughes Performing Arts Institute. We must mourn the dead, but also fight like hell for the living!
ENDORSERS
PFLAG Seattle
PFLAG Washington State Council
PFLAG Pacific Northwest
Mac S. McGregor
Seattle Chapter, National Organization for Women
Kadima Reconstructionist Community
Real Change Homeless Empowerment Project
Socialist Alternative Seattle
Seattle Democratic Socialists of America
UAW Local 4121
Councilmember Kshama Sawant
Related Events