Mystery Drag Queen Theater 3000!
March 2, 2018 @ 7:00 pm

-

10:00 pm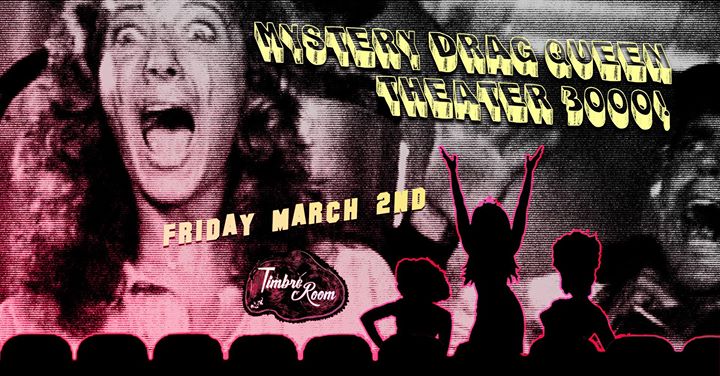 Timbre Room presents Mystery Drag Queen Theater 3000!
🎬 TIX: http://bit.ly/MysteryDrag3000 🎬
A+ drag queens riff on the best/worst B-movies live! How hilariously bad can a film get? Let's find out!
Feature Presentation: Eegah! (1962)
A lovestruck prehistoric caveman kidnaps a modern-day teenage ditz, Eegah! is the story of a gigantic Neanderthal who has managed to survive into modern times living in California's Mojave desert — and so much more. The Official Razzie Movie Guide lists Eegah! as one of the 100 Most Enjoyably Bad Movies Ever Made, a teenage monster film at its worst!
Starring:
🍿 Betty Wetter
🍿 Miss Kitty Franzia
🍿 Old Witch
Concessions!
Cinematic drink specials!
Drag performances!
Door: 7PM | Movie: 7:30PM | $9 Adv.