Noise Complaint: Are You STILL Afraid of the Dark?
October 25, 2019 @ 10:00 pm

-

October 26, 2019 @ 4:00 am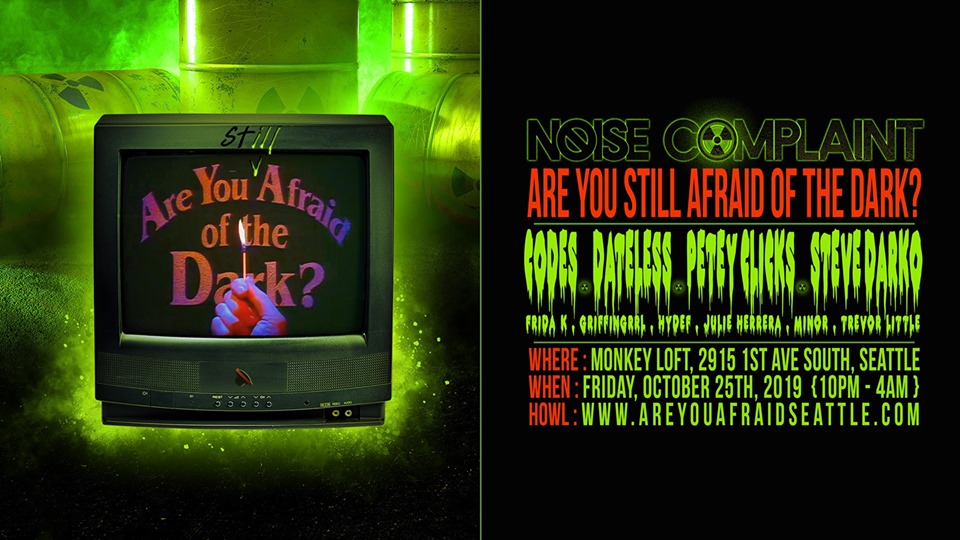 Note: Not an LGBTQ specific event
☢️☢️ TICKETS AVAILABLE NOW VIA FACEBOOK EVENT OR @ www.areyouafraidseattle.com ☢️☢️
Join us for a very spooky edition of everyone's favorite party, as we turn Monkey Loft into the sort of haunt where goblins, ghouls, ghosts, vampires and everything in between can come dance the night away to a Monster Mash like none before it.
You already know we'll be pulling out all the stops to make this an unforgettable evening – from the music, to the decor and the costumes and of course a few tricks up our sleeves….it's sure to be a treat!
We'll have TWO STAGES of incredible music featuring heart stopping DJ sets from:
☣️ FALLOUT ZONE ☣️ – Loft
👾 Codes
🤖 Petey Clicks
😈 GriffinGrrl
👽 Hydef
😷 Minor
☢️ REACTOR CORE ☢️ – Gallery
🦇 Steve Darko
🌹 Dateless
💥 Julie Herrera
🕷 Frida K
☠️ Trevor Little
Things you can expect:
* Multiple rooms of music
* Interactive art, visuals, & design
* Top Local and National DJ Talent
+ MUCH MUCH MORE 💀 💀 💀
🎃 TICKETING INFO 🎃
+++ www.AREYOUAFRAIDSEATTLE.com +++
VERY EARLY BIRD ($20)
*very limited!*
Our lowest priced tickets! Extremely limited quantity, get yours while they last!
EARLY BIRD ($25)
Our next lowest priced tickets – also in limited quantity, get yours while they last!
SLIGHTLY LESS EARLY BIRD ($30)
Still a great deal! Limited quantity, if we're already at this tier you better act now!
YA SNOOZE YA LOSE ($35)
If we're on this Tier it means tickets are DANGEROUSLY CLOSE TO SELLING OUT. Grab yours now or be stuck waiting in line at the door!
DAY OF SHOW ($40)
These will be available on a first come, first served basis and as space allows
—
☢️ TICKETS ON SALE NOW @ www.areyouafraidseattle.com ☢️
21+
10pm – 4am
—
🔇ABOUT NOISE COMPLAINT🔇
Gone is the party where the music and the people at the party mattered more than making money. As Electronic Dance Music has exploded in popularity over the last several years, so have crowds and ticket prices along with it. In the beginning, events were held in underground, often intimate venues. It was about the music, and it was about each other.
Noise Complaint is taking it back to its roots, bringing the people quality, dance floor focused house and techno all while pushing that party-don't-stop vibe that everyone loves. We're bringing in huge talent – DJs and producers that are well known and respected but that we also personally vibe with. We're doing this at a small price, and in an intimate space. It's about the music for us, it's about the party and the vibe and the memories and friends you will make. Every Noise Complaint should be the best party you've been to since well, the last Noise Complaint.
We're more than just a party, we're a movement.
—
🐒ABOUT MONKEY LOFT🐒
With an authentic industrial aesthetic and a sound system engineered to impress, the Monkey Loft is one of Seattle's unique destinations for dance music enthusiasts. Our loyal following has grown organically and we pride ourselves on our courteous and fun-loving patrons. With promoters with who cultivate the best talent and prioritize the local scene. When "The Deck" comes alive after hours, the Monkey Loft patrons' experience is enhanced with a truly unique outdoor addition sporting a fireplace, several seating areas, and breathtaking skyline views.
Related Events