Noise Complaint ft. Golf Clap
December 8, 2017 @ 10:00 pm

-

3:00 am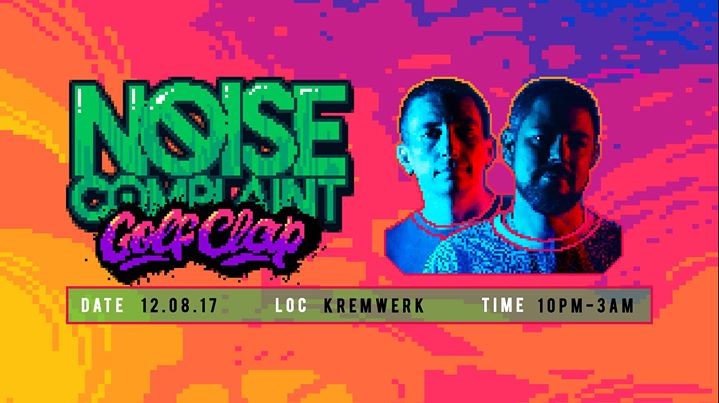 Noise Complaint and the Kremwerk/Timbre Room Complex are proud to present, two rooms of thoughtfully curated music featuring:
⛳️👏Golf Clap⛳️👏️
http://www.facebook.com/golfclapdet
http://www.soundcloud.com/golfclapdet
http://www.twitter.com/golfclapdet
Golf Clap played our third party ever, and we've become good homies with them over the last year and a half so it only seemed fitting for them to be our first ever "repeat" headliner. The boys from Detroit have seen their career explode. This came as no surprise to us, however as the last time they played Noise Complaint was a certified rump shaker (and also their first time playing Seattle). We are beyond stoked to be bringing them back out and sharing in their journey!
With roots in the Detroit underground, booking local and international DJs to play at their own parties, Golf Clap have established themselves as in-demand artists and performers in their own right, via an irresistible combination of hard work and talent.
Releases on Toolroom, Relief, Simma Black, their own Country Club Disco imprint, and Kerri Chandler's Madtech have announced Golf Clap as a musical force to be reckoned with – With fans including Carl Cox, Oliver Heldens, Claude VonStroke, Danny Howard and Green Velvet. In early 2017, this recognition peaked with Pete Tong naming their collaboration with Eyes Everywhere 'Bout That' as his Essential New Tune. After playing the track five weeks running on his BBC Radio 1 show, 'Bout That' was released as part of Toolroom's Ibiza album in May 2017.
It's behind the decks that Golf Clap originally made their name, and their energy and passion for the craft of DJing shows no signs of abating. 2017 will mark their 4th straight year at Electric Forest (performing at both weekends of the festival). They have also performed at Movement, Mysteryland, Spring Awakening, North Coast, and Brooklyn Electronic Music Festival, and are adept at crafting highly creative, energetic sets across four decks: masters of live remixing, tweaking and layering up effects and of teasing out the music for maximum dancefloor impact.
Whether they're playing clubs, warehouse shows or at an impromptu after-party – which they more than likely arranged themselves – the sheer love these guys have for playing records and making people dance is evident. Recent highlights include Holy Ship!, where the guys earned themselves hundreds of new fans while tagging with GRiZ, Mija and Will Clarke. Add to this a three-hour b2b session with Skream in Detroit, opening for Disclosure and Get Real, performing at the Dirtybird BBQ, playing at Ministry of Sound for Doorly & Friends, and it's been a quite incredible year for Golf Clap.
As with every movement worth being a part of, Golf Clap's self-made community started small: a group of like-minded artists and fans giving one another exactly what they needed to throw incredible parties. But as their profile has increased, word has spread both across the US and internationally. Go to any electronic music festival now and you'll find a strong showing for their Country Club Disco merchandise and an ever-growing army of fans.
That fan base is sure to grow with their return to Noise Complaint and we can't wait to host them once again!!
LOCAL SUPPORT FROM:
🔮 Subset 🔮
🚨Christian Jackson🚨
————————————————
UPSTAIRS IN THE TIMBRE ROOM
"ELIO'S ELVES" CURATED BY ELIO GALO FEATURING:
👬WESLEY HOLMES b2b FOOFOU👬
🏄KINDA🏄
⏳SOON(ISH)⏳
————————————————
VERY LIMITED $10 TIER 1 Tickets available NOW
21+
—
🔇 ABOUT NOISE COMPLAINT 🔇
Gone is the party where the music and the people at the party mattered more than making money. As Electronic Dance Music has exploded in popularity over the last several years, so have crowds and ticket prices along with it. In the beginning, events were held in underground, often intimate venues. It was about the music, and it was about each other.
Noise Complaint is taking it back to its roots, bringing the people quality, dance floor focused house and techno all while pushing that party-don't-stop vibe that everyone loves. We're bringing in huge talent – DJs and producers that are well known and respected but that we also personally vibe with. We're doing this at a small price, and in an intimate space. It's about the music for us, it's about the party and the vibe and the memories and friends you will make. Every Noise Complaint should be the best party you've been to since well, the last Noise Complaint.
We're more than just a party, we're a movement. Join us 2nd Fridays at Kremwerk and become part of the family.
Related Events