People Music Presents // Thriftworks
January 17 @ 10:00 pm

-

2:30 am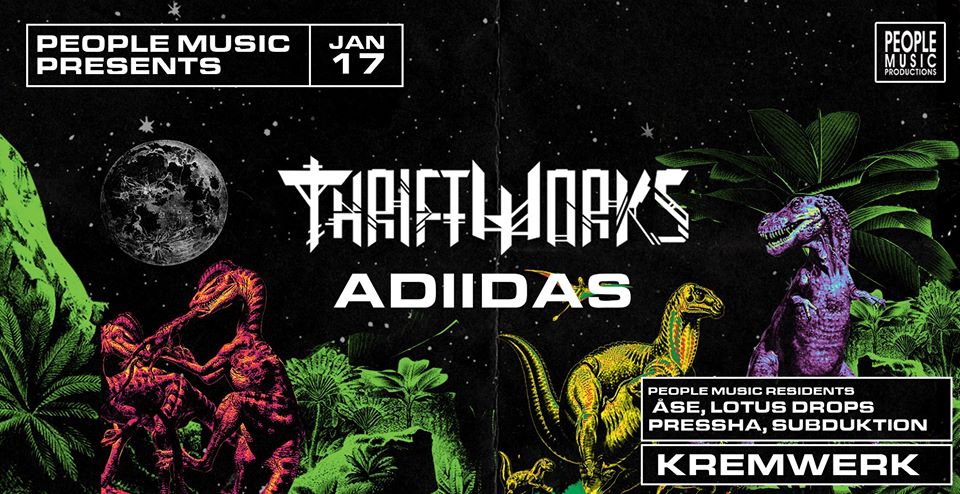 People Music Presents
Thriftworks
w Adiidas
People Music Residents: Åse, Lotus Drops, Pressha, Subduktion
Live visual art by Fourize
21+ w Valid ID
Thriftworks
thriftworksmusic.com
soundcloud.com/thriftworks
Thriftworks offers his own uniquely original take on forward thinking electronic music, weaving eclectic samples and explosive modern bass that continually pushes the envelope while taking the art of beat-crafting to new heights. Garnering much praise from fans and critics alike with his steady stream of new material, Thriftworks is quickly becoming known as one of the finest up and coming experimental producers with his outside the box sound and unclassifiable style. Thriftworks' use of deep low-end and wall to wall synths seem to channel something ancient and mysterious, offering up an intoxicating musical high with an invigorating breath of fresh air. These sounds activate the senses, enrapture the mind, move the body and leave audiences begging for more.
Adiidas
Lake Tahoe, CA
soundcloud.com/adiidas
South Lake Tahoe-based producer, Adiidas, is a permanent fixture atop the cresting wave that is forward-thinking bass music. Over the years, his inventive and ever-evolving style has landed his records on many of bass music's leading imprints including Phuture Collective, Official Trap Party, Euphoric, and of course our very own Below the Surface. Adiidas has also earned features with Fuxwithit and Youredm. Adiidas sub-heavy output has continually pushed boundaries in bass music with voracious creativity.
People Music Residents:
Åse – soundcloud.com/alyssamariehovde
Lotus Drops – soundcloud.com/alyssamariehovde
Pressha – soundcloud.com/pressha
Subduktion – soundcloud.com/sub_duktion
People Music
People Music is a Seattle concert production company working hard to bring good music to good people… We do bass music shows since 2009. For more info on upcoming People Music events follow us on Facebook, Instagram or Twitter:
facebook.com/PeopleMusicProductions
instagram.com/people_music
twitter.com/people_music
People Music contact info:
people.music.info@gmail.com
Related Events