People Music Presents // ZEKE BEATS & The Widdler
August 17, 2019 @ 10:00 pm

-

2:30 am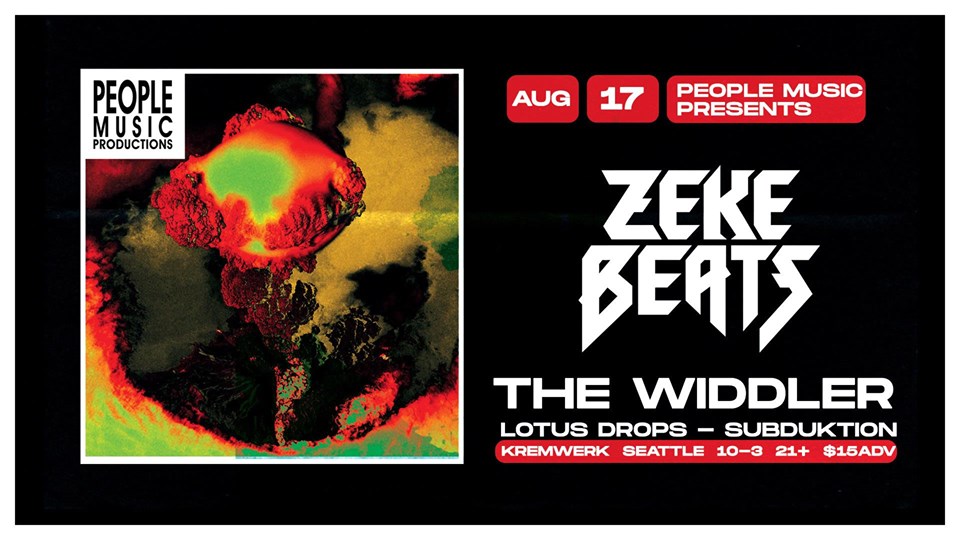 People Music Presents
ZEKE BEATS
The Widdler
Lotus Drops, Subduktion
10 – 2:30am , 21+, $15adv
ZEKE BEATS
Australia
zekebeats.com
soundcloud.com/zekebeats
Bringing bass to life with his analog synth wizardry, ZEKE BEATS is on a mission to melt faces. One of the game's best new names, ZEKE BEATS blends hip-hop and grime influences with his signature analogue basslines for a distinct sound that's dirty, crunchy and always futuristic. So no surprise it's turning heads: labels and electronic A-listers like Bassnectar, DJ CRAZE, DJ Shadow, TODDLA T, G Jones and EPROM have all already thrown him support. Zeke's not just your regular DJ: his love for hardware comes from his background as a turntablist superstar, a rare talent that's seen him rank 4th in the world in the prestigious IDA World Championships, he has won the Australian DMC DJ Championships, and was named Valedictorian of DJ QBert's Scratch University.
The Widdler
Austin, Texas – Tel Aviv, Israel
soundcloud.com/the_widdler
thewiddler.bandcamp.com
Born in Tel Aviv and living in Austin, TX, The Widdler is widely recognized as an innovator and originator of dub sound. Constantly practicing, The Widdler incorporates mix sessions into his daily routine, which translates to his flawless performances at shows; headlining with the likes of Doctor P, Reso, Ajappai, Dave Tipper, Bassnectar, Caspa, Mary Anne Hobbes , Excision, Bukez Finezt, TRUTH, Downlink, & many more as well as a member of US imprints Dank 'N' Dirty Dubz, MalLabel Music, Deep, Dark & Dangerous, & Sub.mission. Taking influence from various genres of music and lifestyle, his tunes comes in all shapes and colors. From the chilled reggae dubs and blue mood atmospheres to the mean menacing throbs of bass and percussion, The Widdler knows how to weave his musical roots with his production that makes each set entirely special. Sit back, light a spliff, and enjoy the sounds of The Widdler.
//Local Support//
Lotus Drops – Seattle
soundcloud.com/lotusdrops
facebook.com/LotusDropsWomp
Subduktion – Seattle
soundcloud.com/sub_duktion
facebook.com/subduktion
// People Music //
People Music is a Seattle concert production started in 2009 focused on bass music, dubstep, grime, halftime, jungle and drum n bass. For more info on upcoming People Music events following us on Facebook, Instagram or Twitter:
facebook.com/PeopleMusicProductions
instagram.com/people_music
twitter.com/people_music
email: people.music.info@gmail.com
>>IMPORTANT INFORMATION BELOW<<
………………………………………
Kremwerk strives to be a safe space. The following actions or display of behavior will not be tolerated: bigotry, racism, sexism, transphobia, homophobia, misogyny, ableism, as well as the disrespect of the rules of consent. Our staff is here to support you.
Kremwerk is currently not an ADA accessible space. Club entry is through a flight of 12 metal stairs, with two small steps leading into the main part of the club. We have 2 restrooms with a total of 3 stalls and 1 urinal, all gender neutral. If you would like access to single-stall restrooms, please don't hesitate to ask our door & security to allow entry upstairs into Timbre Room, which has 2 single-stall gender-neutral restrooms.
For any questions about safety & accessibility, please email info@kremwerk.com.
Related Events