Rally and Protest Against Anti-trans Hate at Seattle Library
February 1, 2020 @ 3:00 pm

-

7:00 pm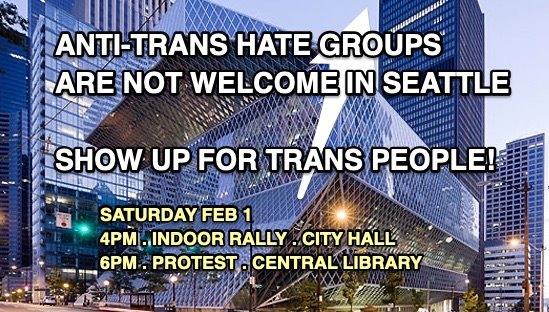 Seattle Central Library has decided to host a fundraising event for transphobic hate speakers on February 1. These speakers include professional anti-trans hate writer Meghan Murphy, and a WoLF board member.
We, as a city, must rally against this event to tell transphobic hate groups that they are not welcome here, that transphobia has no place in feminism, and that Seattle Public Library must make major changes to make our libraries safe for trans employees and patrons.
See our petition demanding changes at Seattle Public Library here: http://chng.it/5XLkC4mBcs
******************************
SCHEDULE (feel free to attend the full event, or part):
SATURDAY FEB 1 . 3PM-6PM (recommend showing up by 4PM)
INDOOR RALLY AT CITY HALL (600 4th Ave)
BERTHA KNIGHT LANDES ROOM
3PM-4:30PM:
Free organizing and sign-making; limited sign-making materials will be available, but you are encouraged to bring your own!
4:30-5:30PM:
Speakers include:
• Tobi Hill-Meyer – Gender Justice League
• Devon Rose Davis – Justice for Nikki
• Idabelle Fosse – Seattle Women's Commission
• Emma Allen – Radical Women
• TBD – City Councilmember Kshama Sawant's office
• J Mase III – poet, activist, author
• TBD – Washington State LGBTQ Commission
• Jery Che – Make Our Libraries Safe
5:30PM-6:00PM
Coordination and March to Seattle Central Library at 5:45pm (4 blocks away)
******************************
SATURDAY FEB 1. 6PM-7PM
OUTDOOR PROTEST AT SEATTLE CENTRAL LIBRARY (1000 4th Ave)
The WoLF event will be taking place from 7PM-9PM inside the library. Attendees to the hate event (ticketholders only) will be let in at 6:30PM.
******************************
BRING (recommended):
– Clothing appropriate for cold and possible rain
– Any supportive friends/family/colleagues/comrades — friendly trans and cis people are very welcome
OPTIONAL:
– Signs
– Signmaking materials (if attending City Hall prior to 4:30)
– Flashlights, headlamps, or other creative outdoor/rain-resistant lighting — there will be downtown lighting, but it will be relatively dark
– Other creative protest displays or equipment
DO NOT BRING (recommended):
– Anything that can be construed as a weapon; at protests, SPD has consistently used any stretch that something could be a weapon as justification to confiscate signs, use tear gas/pepper spray, or even conduct arrests in extreme cases. Examples of items that SPD may use as justification to take action include nails or bolts that show through protest signs, banners with wooden frames, etc. Standard signs with wooden handles should be completely fine.
******************************
LOGISTICS:
– Seattle Central Library closes to the public at 6pm.
– SPD wants people to stay on the sidewalk unless there are enough people for them block off a street; SPD will block off one block (likely on 4th avenue) if people do not fit on the sidewalk
– The parking garage under Seattle Central Library will be closed; there are several other paid parking garages in the area, or several bus lines and light rail stop very close. Lyft/Uber is an option. Free parking is unfortunately relatively far away; you can use this map to locate free & paid street parking: http://web6.seattle.gov/SDOT/seattleparkingmap/
– There will likely be press and other cameras; be prepared to be recorded, or cover your face as you deem appropriate.
– The protest is intended to be peaceful, but we are unsure if there will be far-right disruption (Proud Boys, 3%'ers, Patriot Prayer, other transphobes and fascists). We do have security, medics, and legal observers available, and expect you to be safe. If you see any disruption or violent action, please calmly leave the area if you are not prepared to be arrested. SPD has arrested peaceful protesters who are just in the vicinity of disruptions in the past.
******************************
MORE CONTEXT:
This event is part of a disturbing trend of transphobic incidents at Seattle Public Library, which recently forcibly removed a trans person from a family restroom, took a year to update their restroom policies to allow trans/nonbinary people in gender-neutral restrooms, and recently had a hate crime (threat with a knife) at Capitol Hill Library. Many other trans people have faced harassment at our libraries that have not had media attention.
Please rally with trans people, nonbinary people, and allies & accomplices to show that trans people deserve respect and dignity in this city and its public places.
It is especially important for cis women to show up, as these hate speakers claim to speak for all cis women that trans and nonbinary people are "dangerous" and a "threat" to cis women.
******************************
Hate speakers planning to speak at Seattle Central Library:
• Meghan Murphy, prolific anti-trans hate speaker and writer, founder of "Feminist Current" (disavowed by mainstream & leftist feminists), recently banned from Twitter for anti-trans hate and harassment
• Kara Dansky, director for WoLF, labeled a hate group by the ACLU, recent speaker at an anti-trans event hosted by the far-right, anti-feminist, anti-LGBTQ Heritage Foundation
• Saba Malik, co-founder of Deep Green Resistance, a deep ecology group that has been shunned by other environmental organizations for its bizarre focus on spreading hate against trans people
******************************
ACLU lawyer discussing WoLF's status as an anti-trans hate group here: https://www.out.com/commentary/2019/8/28/these-hate-groups-want-supreme-court-erase-trans-peopleundww
Related Events