Research ft. KZA [Japan]
March 30, 2018 @ 10:00 pm

-

March 31, 2018 @ 4:00 am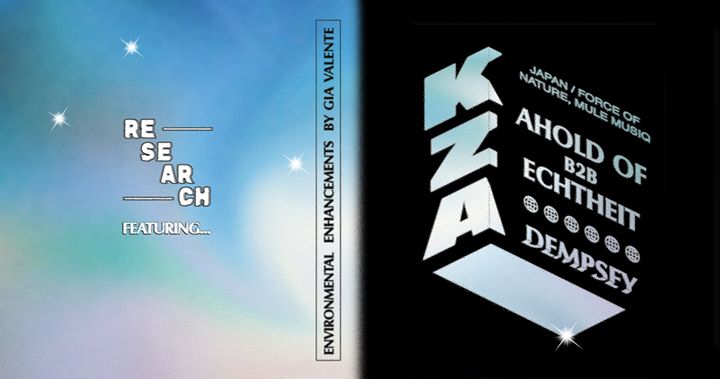 Join us for Research, an evening of adventurous dance music with…
KZA
[Japan / Force of Nature, Mule Musiq]
https://www.discogs.com/artist/112308-KZA
https://soundcloud.com/timsweeney/kza
https://www.youtube.com/watch?v=-ht9O-z52Pg
local support from…
AHOLD OF [TUF]
https://soundcloud.com/ahold_of
▼ b2b ▼
ECHTHEIT
https://soundcloud.com/echtheit
DEMPSEY
https://soundcloud.com/shwanton
Environment Enhancements by Gia Valente
http://giavalente.com/art
SOUND: Danley Sound Labs
Courtesy of Human Sound Systems
Timbre Room
1809 Minor Ave. Seattle, WA
http://kremwerk.com/
21+
………………………………………
Research seeks to provide a safer space for attendees to thrive on the dancefloor. Those who exhibit racist, sexist, homophobic, transphobic, ableist, ageist, and/or physically/sexually/verbally aggressive behavior will be bounced for the night and potentially barred from future events. If you experience any of the above please contact a member of Kremwerk staff.
Thank you for supporting underground dance music in Seattle.
If you're down with the cause, please invite your friends to this event / spread the word ♥ See you on the dancefloor! 👠
——————————-
About…
KZA
Kza is one half of a DJ/production team Force of Nature, and pursues their own individualistic style in underground dance music with a strong affection to the sampling/ vinyl culture. He has been producing quality music with a truly "natural" approach. Not only have they released three albums "The Forces of Nature," "II," and "III" in the past, he has contributed in producing and remixing both Japanese and international acts, and has took part in various projects including an animation film soundtrack "Samurai Champloo." As a DJ by trade, he plays frequently in Tokyo, travels around not only Japan but to Europe and the United States to rock the crowd day and night with his broad collection of tasteful vinyls hunted and dug out on a daily basis over many years. Lately, he has been active not only as Force of Nature but also on his own, and has released a solo debut full-length "D.A.E." in 2009 on Mule Musiq's sub label Endless Flight. His latest production, a single "Le Troublant Acid," came out in December 2010. Furthermore in 2010, he founded his own imprint called Let's Get Lost, and his own work was just released on it in April 2012. He released his latest album,『D.A.E. 2』in 2014 and has been touring in North America every year since 2015.