Rough Draft: Awakening
August 27 @ 10:00 pm

-

2:00 am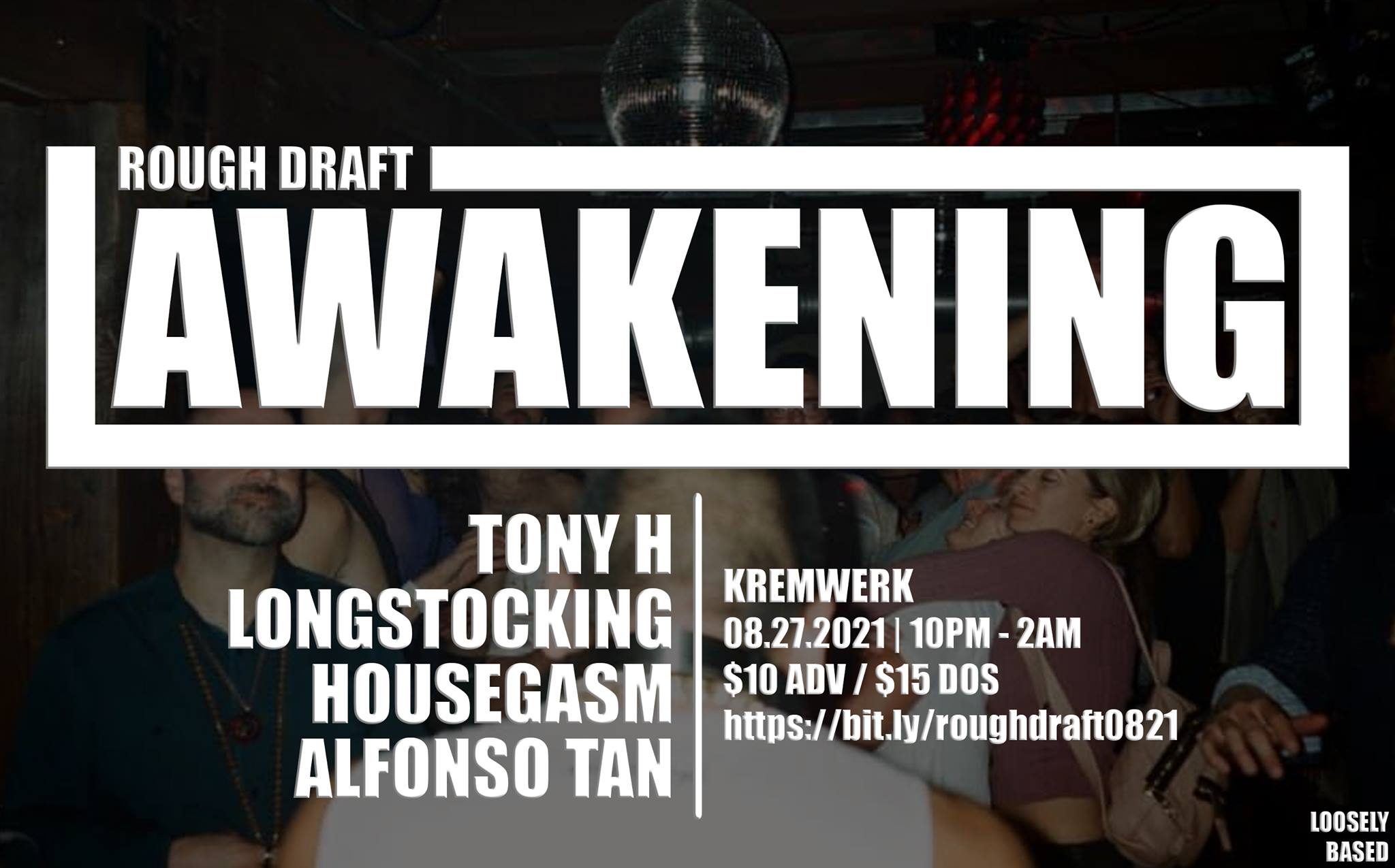 Wow, what a ride the last 1.5 years has been 
 We truly hope that you are makin' it through! Loosely Based has missed you, have you missed us? Well, we're finally making a return!! Originally scheduled for 03/28/2020, Rough Draft: Awakening, has finally found a new date and the name 'Awakening' is all the more fitting. Join us in one of our most-beloved basements for a sweaty night of the finest in house music. Similar to our most recent events, the DJ booth will be relocated to the dance floor to create a warm, unique, and dynamic atmosphere. We can't wait to see you!
 This is a party for EVERYONE, ranging from shirtless daddy-bear to shuffling b-girl to non-binary rave-throuple, and everything in between. We aim to come together over GOOD dance music, so party elsewhere if this bothers you.
 TIME/LOCATION/ENTRY:
 Aug 27th, 2021, 10:00PM to 02:00AM
 Kremwerk | 1809 Minor Ave #10, Seattle, WA 98101
 $10 ADV / $15 DOS
 LINEUP
• Tony H (Late Night Munchies / Space Yacht / Dirtybird) – 
https://linktr.ee/officialtonyh
• Longstocking (He.She.They. / Late Night Munchies) – 
https://linktr.ee/longstocking
• Housegasm (Open House Collective) – 
https://gasm.house
• Alfonso Tan (Loosely Based / LOST) – 
https://lnk.bio/alfonsotan
 Our friends from 5K are throwing a RAD party in Timbre Room on the same night featuring ZOF and Sam Hipp; they both SLAY! An $18 combo ticket will get you complete complex access.
SAFER SPACE
The following actions or display of behavior will not be tolerated: bigotry, racism, sexism, transphobia, homophobia, misogyny, and ableism.
Consent is required when interacting with others. A person's choice of self-expression is not an invitation for non-consensual touching. Any form of harassment including leering, rude comments or touching will be dealt with, and anyone caught harassing other patrons will be given a lifetime ban from our club. Our staff is here to support you.
PHONES
For the sake of the vibe during dance parties, we ask that you avoid using your phones or taking photos anywhere on the dance floor. Feel free to use your phones on the patio.
Kremwerk is currently not an ADA-accessible space. Club entry is through a flight of 12 metal stairs, with two small steps leading into the main part of the club. We have 2 restrooms with a total of 3 stalls and 1 urinal, all gender-neutral. If you would like access to single-stall restrooms, please don't hesitate to ask our door & security to allow entry upstairs into Timbre Room, which has 2 single-stall gender-neutral restrooms. For any questions about safety & accessibility, please email info@kremwerk.com.
 This event is presented by Loosely Based, a small, music-focused collective that serves as a hub for [dance] music-lovers to gather and share fly content and experiences. Check out our FB page (likes/follows are appreciated!) for more. Loosely Based's events are for anyone that believes in safe dance spaces for people of all genders, colors, shapes, sizes, and orientations. You are free to be yourself and enjoy the music. Follow the rules of consent and respect everyone's right to cut loose. See you on the dance floor!
Related Events