Rough Draft: Grounded
October 12, 2019 @ 10:00 pm

-

3:00 am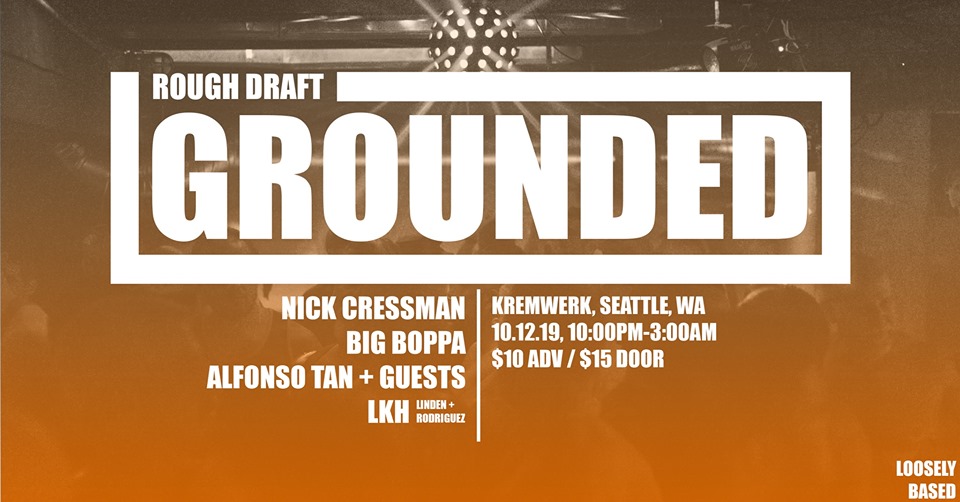 After taking summer off, ROUGH DRAFT, the notorious party series thrown by the Loosely Based crew is back with a special event – ROUGH DRAFT: Grounded.
Inspired by house parties, Boiler Room / similarly-styled sets, and special Timbre Room configurations, ROUGH DRAFT: Grounded is a party that will let the DJ's fully connect with the dance floor. Kremwerk will be moving their booth setup to the floor, bringing the DJ to the same level as the people, hence the name of the event. Grab your chosen fam and move in close. It's a night that's gonna be cozy, loose, and totally slap!!
💾 TIME/LOCATION/ENTRY:
📆 Oct 12th, 2019, 10:00PM to 03:00AM
💟 Kremwerk | 1809 Minor Ave #10, Seattle, WA 98101
🎫 $10 ADV / $15 DOS
🎧 LINEUP:
💥 Nick Cressman 💥
🔊 https://soundcloud.com/nickcressman
• A household name at such major venues as His Apartment and That One House Party, Nick Cressman is ready to play some tracks to get you feeling good and groovy on the dance floor.
💥 Big Boppa (Sleepless) 💥
🔊 https://soundcloud.com/bigboppamusic
• Living up to the name of his collective, Big Boppa throws down a seriously funky house and tech house sound that is sure to keep you awake and shakin' it.
💥 Alfonso Tan + Guests (Loosely Based) 💥
🔊 https://soundcloud.com/alfonsotan
• Residing quite comfortably in house, tech house, and funk, Alfonso has a sound that was raised on Wu-Tang and '90's R&B, but isn't afraid to death drop no matter what time of day it is.
💥 LKH – Linden + Rodriguez (Underscore Recordings, SCOHM, HouseQuake) 💥
🔊 https://soundcloud.com/mrlinden
🔊 https://soundcloud.com/hectorjrodriguez
• Hector and Jeremy play lo-key fire, selecting tracks from classic, lo-fi, and deep house.
🖤 This event is presented by Loosely Based, a small, music-focused collective that serves as a hub for [dance] music-lovers to gather and share fly content and experiences. Check out our FB page (likes/follows are appreciated!) for more. Loosely Based's events are for anyone that believes in safe dance spaces for people of all genders, colors, shapes, sizes, and orientations. You are free to be yourself and enjoy the music. Follow the rules of consent and respect everyone's right to cut loose. See you on the dance floor!
Related Events