Shook: One Year Anniversary w/ TMSV, A.Fruit & Sigrah
July 26, 2019 @ 10:00 pm

-

3:00 am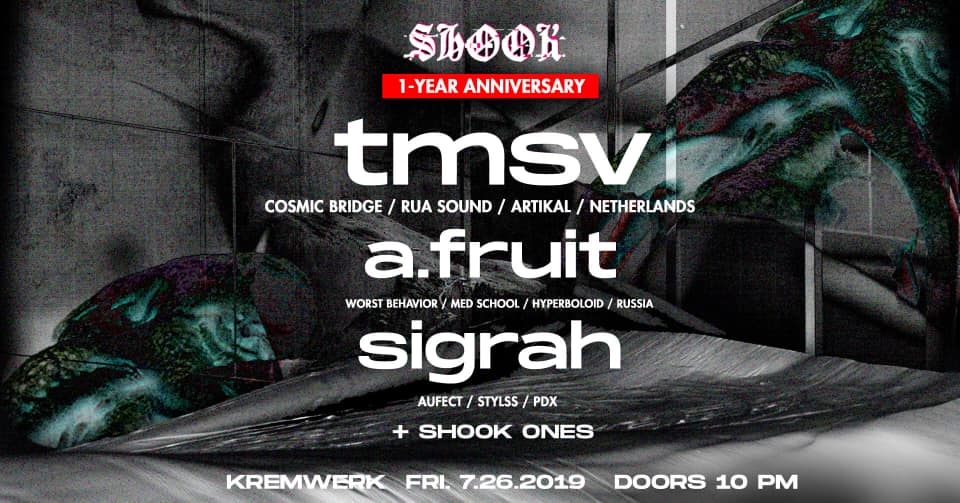 Shook at Kremwerk invites you to our one year anniversary party with…
TMSV
[Cosmic Bridge, Rua Sound, Artikal Music | Netherlands]
www.facebook.com/tmsvmusic
www.soundcloud.com/tmsv
A.Fruit
[Worst Behavior, Med School, Hyperboloid | Russia]
www.facebook.com/afruitmusic
www.soundcloud.com/annafruit
Sigrah
[STYLSS, Aufect Recordings | PDX]
www.facebook.com/sigrahmusic
www.soundcloud.com/sigrah
Shook Ones
https://soundcloud.com/nofuxgibbons
https://soundcloud.com/gltymusic
Kremwerk
1809 Minor Ave.
Seattle, WA
http://kremwerk.com/
21+
………………………………………
About…
TMSV
Firmly established in the dubstep scene for several years, Tomas Roels, better known as TMSV, has decided to switch things up. After taking a few steps back from the music scene to experiment and search for a new sound to call his own, his latest output takes inspiration from jungle, grime, juke, dubstep and other bass music. No longer constrained by genre or tempo, TMSV's sub-powered, percussive dread music is diverse, yet recognizable.
Aside from being a producer, TMSV is a perfectionist behind the decks and has torn up dancefloors at renowned club nights in Europe and beyond. Not a fan of single-genre sets, he likes to play the wide range of sounds he's into.
2016 is set to be a big year for TMSV, with numerous high-profile solo releases as well as remixes on various labels.
A.FRUIT
Anna Fruit is an audiophile, the explorer of the universe of sounds and the relationships between music and people. A.Fruit's music reflects her inner world and her emotional interactions with the outer world. She has been addicted to bass music production since starting over 10 years ago, and now works as a professional sound designer and audio engineer, working to create sounds of the highest quality.
Anna Fruit was born in 1989 in Moscow, Russia (USSR at the time) and now based in Saint-Petersburg. Her passion for music began in childhood – at school she played the guitar and sang her own songs to friends. In 2008, while studying sociology in Moscow State university, she discovered Ableton Live, and it changed her life. She started making music, and decided to get a second education as a sound engineer to improve her craft. In 2012 Anna graduated the University and simultaneously completed her certificate in audio engineering. Then, for some years she worked as a sound technician on TV channels, in parallel continuing to produce electronic music.
A.Fruit found her 160 bpm-focused sound somewhere in between her longtime loves of drum n bass, jungle, hip-hop, and especially footwork. Her professional music career began in 2015, since then A.Fruit has released three EPs and around 30 original tracks and remixes on compilations worldwide. Her music has appeared on labels including Med School, Teklife, Hyperboloid, Sequel One Records, Black Marble Collective and more. Outside of her own music, A.Fruit creates sound effects and music of other genres for PC games (Gremlins, Inc., Skyforge, Pathfinder: Kingmaker and other) and provides digital mastering in her home studio. On tours Anna explores the world and people, delivering DJ sets that delight with a mixture of 160-170 bpm music from footwork and jungle to future beats and halftime.
SIGRAH
Brought up by the classics, Ben Sigrah traded his classically trained ear for the tricky-deep sounds of electronically produced music at an early age. After discovering complex genres like Jungle and Drum & Bass, he resisted the rigorous ways of orchestral performance and found himself in front of a computer. In the few years after his DJ debut in 2010, this Portland based producer started to make his mark on the dance music world with sounds almost entirely unique to himself. His unique and diverse approach to 160/170 bpm is refreshing in a time when Ivy Lab knock-offs are a dime a dozen and the "halftime" label gets thrown at basically any music written at 85 bpm. His production is just a strong on an ethereal jungle roller as it is on a chunky neuro hip-hop beat that belongs on Noisia Radio, which is displayed through his diverse releases on labels ranging from Rogue Dubs to STYLSS to Aufect. Sigrah's latest and most cohesive production effort for 2018, a 5-track EP entitled Fission Vision, is a clear and honest look at the sounds that have been such a major influence on his productions over the last 10 years. Ranging in feel from autonomic & ethereal, to experimental bass laden beat music, wrapped in an uptempo format, this EP refuses to be pigeon holed, just like the Sigrah project itself.
………………………………………
Sign up for the Kremwerk + Timbre Room Complex mailing list on our website, to stay in the loop about upcoming events, ticket giveaways and more!
http://www.kremwerk.com/
………………………………………
Kremwerk strives to be a safe space. The following actions or display of behavior will not be tolerated: bigotry, racism, sexism, transphobia, homophobia, misogyny, ableism, as well as the disrespect of the rules of consent. Our staff is here to support you.
Kremwerk is currently not an ADA accessible space. Club entry is through a flight of 12 metal stairs, with two small steps leading into the main part of the club. We have 2 restrooms with a total of 3 stalls and 1 urinal, all gender neutral. If you would like access to single-stall restrooms, please don't hesitate to ask our door & security to allow entry upstairs into Timbre Room, which has 2 single-stall gender-neutral restrooms.
For any questions about safety & accessibility, please email info@kremwerk.com.
Related Events