Shook: Youngsta & Sepia
December 27, 2019 @ 10:00 pm

-

2:00 am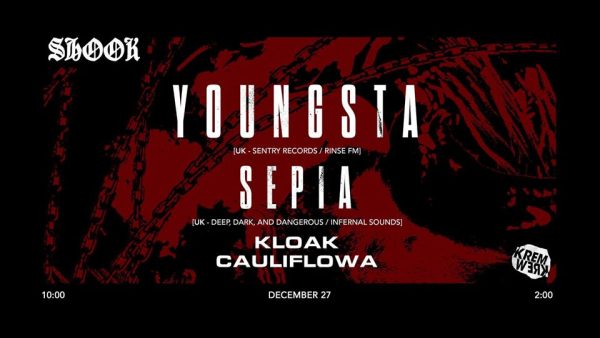 Shook at Kremwerk invites you to a night with…
Youngsta
[Sentry Records / Rinse FM | UK ]
www.facebook.com/youngstatempa
www.soundcloud.com/youngstauk
As one of the pivotal figureheads in dubstep since its inception, Youngsta has spent the better part of his life dedicated to the genre; from picking up DJing at the age of 12 and working at the influential Black Market Records to putting out some of the dubstep's earliest records and playing at scene-defining club nights FWD>> and DMZ as their resident DJ. Youngsta's career within dubstep spans as far back as the creation of the genre itself, as he first played some of the genre's most beloved and historic anthems while rubbing shoulders with the likes of fellow pioneers such as Skream, Benga and Hatcha.
Fast forward from his earlier days helping shape and mold the core of the dubstep genre itself and Youngsta only continues to play a hugely active role in dubstep's current development. With his frequent appearances on Rinse FM, releases on Tempa, Osiris and Wheel & Deal and the creation of his own imprint, Sentry Records, Youngsta is constantly seen solidifying his rightful place as a figurehead for a new generation of producers. It's clear that Youngsta's enthusiasm for the music hasn't flagged after all this time immersed in the dubstep scene, as he's continued to push his sound forward.
Sepia
[Deep, Dark, and Dangerous / Infernal Sounds | UK]
www.facebook.com/sepiamusicuk
www.soundcloud.com/sepiamusicuk
For the last 10 years, Sepia has been building his empire and making waves in the scene, 140 and beyond, through his high octane, multi-genre sets and deep, Dark and melodic productions.
Armed with hefty back catalogue spread across labels such as Deep, Dark & Dangerous, System, Infernal Sound, Wheel & Deal, White Peach and Green King Cuts to name a few, he shows no sign of slowing down.
With a debut album on the way and a string of EPs lined up, the future is looking bright.
and support from…
Kloak
[The Foot]
www.soundcloud.com/kloakmusic
Cauliflowa
[Smoking Gun Collective]
www.soundcloud.com/collie-flowa
Get Tickets: http://bit.ly/ShookYoungstaSepia
Art by Molly Brooks
∻∻∻∻∻∻∻∻∻∻∻∻∻∻∻∻∻∻∻∻∻∻∻∻∻∻∻∻∻
Kremwerk
1809 Minor Ave.
Seattle, WA
http://kremwerk.com/
21+
∻∻∻∻∻∻∻∻∻∻∻∻∻∻∻∻∻∻∻∻∻∻∻∻∻∻∻∻∻
Sign up for the Kremwerk + Timbre Room Complex mailing list on our website, to stay in the loop about upcoming events, ticket giveaways and more!
http://www.kremwerk.com/
∻∻∻∻∻∻∻∻∻∻∻∻∻∻∻∻∻∻∻∻∻∻∻∻∻∻∻∻∻
Kremwerk does not tolerate bigotry, sexism, homophobia, transphobia, racism, misogyny, ableism, or any discriminatory actions. Security is strictly enforcing these rules, and those who do not abide by these rules will be told to leave.
Timbre Room is ADA accessible with a ramp to the front door/bar area, and access to the back door/dance area through the patio area, and 2 accessible gender-neutral restrooms available. If you have any questions about the safety or accessibility of this venue, please email info@timbreroom.com
Related Events