Spirit of the Hill Reception
February 4 @ 5:30 pm

-

7:30 pm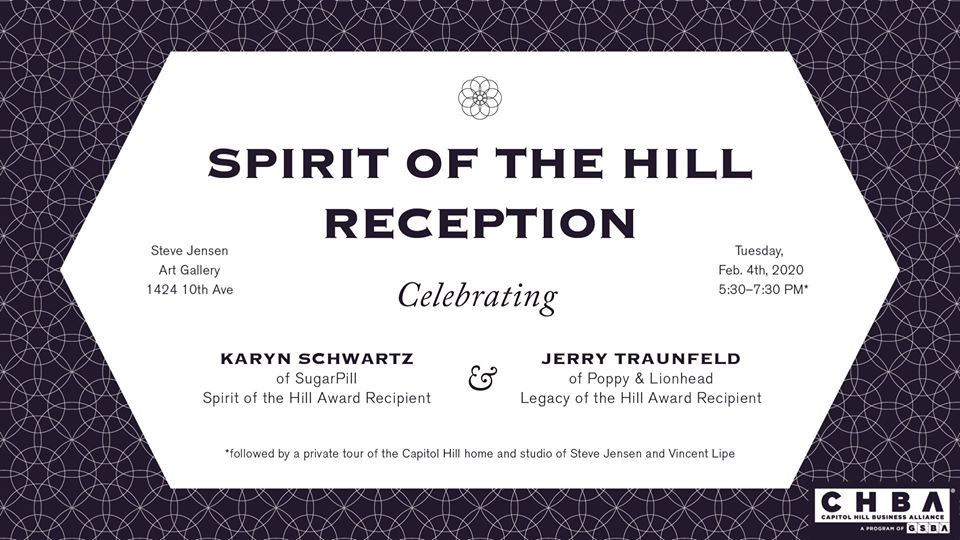 Come together to raise a glass in celebration of Karyn Schwartz (SugarPill) and Jerry Traunfeld (Poppy Restaurant, Lionhead) for their incredible work in championing small business and community in Seattle's most vibrant neighborhood, Capitol Hill.
Following the reception, there will be a private tour of the Capitol Hill home and studio of Steve Jensen and Vincent Lipe. All are welcome to attend this free event, though registration is required.
**About Karyn Schwartz, Spirit of the Hill Award Recipient**
Karyn Schwartz opened SugarPill nearly ten years ago as a personal expression of love for the Capitol Hill community, and as a tangible way to care for people in the particular ways she knows how. Karyn says, "Small businesses are unspeakable labors of love. Brick-and-mortar retail shops are the backbone of any neighborhood – and in some ways, are the new nonprofit organizations – providing care and services to the people who live and work in our midst."
**About Jerry Traunfeld, Legacy of the Hill Award Recipient**
In 2008, Chef Jerry Traunfeld opened Poppy in Capitol Hill's North Broadway neighborhood to present his own style of Northwest cooking, highlighting seasonal ingredients, fresh herbs, and spices. After its opening, Poppy was named one of "50 Best New Restaurants in the U.S." in Travel + Leisure and made the Condé Nast Hot List of "50 Top New Restaurants in the World." In 2015, Jerry opened a sister space next door to Poppy – Lionhead, an elegant tribute to the flavors of the Sichuan province. After over a decade of both his restaurants serving as pillars of community and meccas in Seattle's culinary scene, Jerry retired in 2019. Jerry and his husband are currently enjoying a well-earned rest under the sunny skies of Palm Springs, CA. The impact of Jerry's work remains, his legacy will be remembered, and his presence is already missed.
**About the Capitol Hill Business Alliance, a program of GSBA**
The Capitol Hill Business Alliance is dedicated to ensuring a healthy, vibrant, and diverse neighborhood business community for all. The Alliance provides business development, engagement, and advocacy for Capitol Hill businesses and nonprofits who are committed to the economic vitality of Capitol Hill. To learn more about what the CHBA can do for you and your business, contact us at christinaa@thegsba.org
Related Events